Neptune Hydraulic Diaphragm Metering Pumps Precisely Dose Dust Suppressant Chemicals in Mining Applications
Neptune Chemical Pump Co. designed its Neptune 500-D Series (Duplex) Diaphragm Metering Pumps to precisely meter dust suppressant chemicals used in mining applications.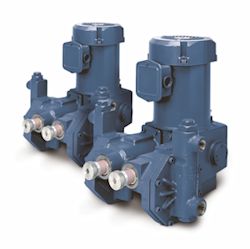 500-D Series (Image: Neptune Chemical Pump Co.)
Mining operations generate large amounts of dust, and one of the most important ways industry is protecting the environment from hazardous levels of dust is through the use of chemical dust suppressants, which includes fiber-based dust palliatives, calcium chloride, magnesium chloride, lignosulfonate, petroleum resin and polymers. These suppressants help provide the desired level of dust control with a minimum amount of moisture, making it critical that these chemicals are dosed precisely.
Neptune Chemical Pump Co. will be displaying its diaphragm metering pumps that deliver precise amounts of dust suppressant chemicals in Booth #2063 at MINExpo International 2012, being held Sept. 24-26, 2012, at the Las Vegas Convention Center in Las Vegas, NV.
The 500-D Series pumps feature EZE-CLEAN valve cartridges, which can be removed from the pump heads without having to disturb the pump's piping. Neptune's Variable Oil By-pass design provides improved valve performance for applications that involve viscous chemicals by allowing additional time for the valves to seat properly. Other standard features include double ball-check valves, internal relief valve, and a hydraulically balanced Teflon diaphragm for extended life. The 500-D pump head materials of construction are 316 stainless steel, C-20, PVC, and Kynar. Material options for the ball check valves are 316 stainless body and seat with 316 balls, PVC body and seat with ceramic balls, C-20 body and seat with C20 balls, and Kynar body and seat with ceramic balls. Flow rates at 100 psi (60 Hz) range from 1 to 60 gph (4 to 228 L/hr) depending on gear ratios of 37, 72, 117 and 144 strokes per minute. Maximum operating pressure is 3,000 psi (207 bar) and maximum temperature of 200ºF (93ºC) for 316 stainless steel and C-20; maximum pressure and temperature of PVC is 400 psi and 125ºF; and the maximum pressure and temperature of Kynar is 150 psi and 200ºF.