MoDoS – Modular Dosing System for Continuous Production
29.06.2015
The Modular Dosing System (MoDoS) from HNP Mikrosysteme is a tailor-made pump system for continuous delivery in fine chemical and pharmaceutical production. MoDoS is synonym for a design concept and a modular component system, forming the base for the concept development of a customized pump module.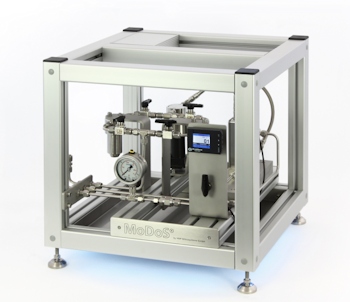 Micro annular gear pumps are the heart of the modular dosing system MoDoS (Image: HNP Mikrosysteme)
The current development of Flow Chemistry, from lab research passing through pilot plants, up to production scale, opens new possibilities for fine chemical production. Small structures allow carrying out reactions in previously inaccessible process windows. Temperature, pressure and mixing ratios, which were not possible in classical batch procedure, can now be successfully implemented. In contrast to previous times, lower flow rates of higher concentrated chemicals are used for the purposes of resource conservation.
Holistic turnkey pump system solutions such as MoDoS facilitate the integration into the system and give the planner the opportunity to deal more intensively with the actual process. The special value for the customers of the modular solutions of HNP Mikrosysteme is set in particular, in the integration of carefully selected and proven fluid power system components. The therefore necessary know-how is the basis for a stable and process-reliable operation of the overall system.
Heart of the system is a micro annular gear pump. Depending on customer requirements, pumps of the hermetic inert series or the high performance series are used. Further modules among others are filters, sensors and flow meters.
The rapidly mass flow control ensures high process stability and constant volume flows of 1 µl/h to 1152 ml/min.