Mercado Machinery Distributing Jet Edge Waterjets in Mexico
08.12.2011
Jet Edge, Inc. is pleased to announce that Mercado Machinery is now distributing Jet Edge precision water jet cutting systems in Mexico. The machine tool distributor has sales offices in Mexico City, Monterrey and Guadalajara.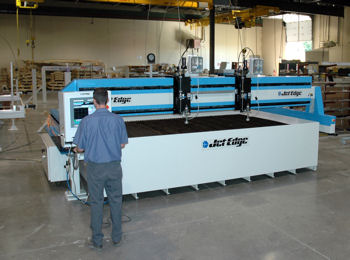 Mid Rail Gantry with Operator (Image: Jet Edge)
Mercado Machinery carries Jet Edge's full line of precision waterjet cutting equipment, including waterjet cutting machines and waterjet pumps. Jet Edge manufactures a wide range of waterjet cutting systems, from 30"x30" to 30'x100', and offers the widest range of intensifier pumps in the waterjet industry, including 36KSI, 60KSI and 90KSI pumps, 30-280hp, electric and diesel.
"We are very pleased to introduce Mercado Machinery as our new distributor for Mexico," said Jude Lague, Jet Edge president. "Mercado shares our commitment to outstanding customer service. Their experienced sales and technical staff know the metalworking industry and can help our customers select the best machine for their application."