Less Stress = Better Pumping
We could all do with less stress... and pumps are no different! This is the thinking behind Codip air-operated pumps, where areas of potential concentrated or localized stress have been eliminated, thanks to the innovative design and operation of its PTFE tubular diaphragm mechanism.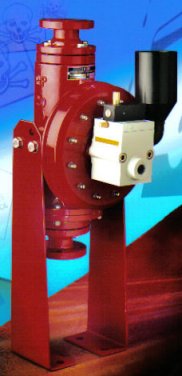 Combine this with robust construction using durable materials and you have a pump which is designed for reliable liquids transfer, even when handling the most aggressive media. The result? Optimum reliability, minimal maintenance and less stress.
Available through Michael Smith Engineers, the Codip range covers flow rates from 0 to 300 lit/min at discharge pressures up to 10 bar. Standard pumps can handle fluids with temperatures up to 90 deg C while high temperature versions have the ability to handle fluids with temperatures up to 180 deg C.
The pump is operated by a compressed air supply via an independent automatic air distributor to one side of a flat rubber air diaphragm. This diaphragm is deflected, resulting in displacement of the inert liquid inside the pump casing. As the inert liquid transmits pressure uniformly to the PTFE tubular diaphragm, without any mechanical stress, extremely long tubular diaphragm life is assured. Also, the pumps are secondary contained because the PTFE tubular diaphragm is surrounded by an inert liquid which is sealed in place by the air diaphragm and this guarantees zero leakage, in the unlikely event of diaphragm failure
The absence of mechanical seals, packing or O rings means that the pumped liquid is effectively sealed from the environment, so it's virtually impossible for the pump to leak any process fluid. As a result many Codip pumps are successfully deployed in handling ultra-pure products in the pharmaceutical and food industry where the prime considerations are no contamination, no contact with the atmosphere and ease of sterilisation with steam.
With small modifications the pumps can handle liquids containing solids or particles of up to 7mm diameter, to concentrations of 50%. Also, the pumps are suitable for handling paints, polishes and glues because of the non-stick properties of PTFE.