John Michael Paz of Godwin Pumps Receives Ernst & Young Award
John Michael Paz, President of Bridgeport, New Jersey-based Godwin Pumps, was awarded the Ernst & Young Entrepreneur Of The Year® 2005 Lifetime Achievement Award by professional services firm Ernst & Young LLP.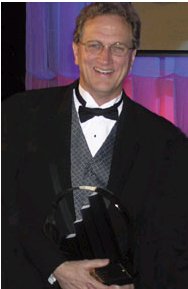 John Michael Paz, Godwin Pumps President (photo: Godwin).
Paz was selected from 20 finalists in the Greater Philadelphia & Central-Eastern Pennsylvania region by an independent panel of judges comprised of local business, academic and community leaders.
A 1978 graduate of Dickinson College, Carlisle, PA, Paz began his career in the construction industry at an early age, working summers as an equipment operator and estimator. After earning a Bachelor of Arts degree with a focus in economics, John joined Godwin Pumps. The company, founded in 1976 by Paz Brothers Construction, Bridgeport, NJ, rented portable dewatering pumps to the construction market and held the exclusive rights to manufacture and sell the Godwin Dri-Prime pump in North America. In 1985, Paz assumed the role of President. He opened the first Godwin Pumps rental office in 1990 in Upper Marlboro, Maryland. Today, Godwin Pumps maintains a fleet of over 5,000 portable rental pumps and related accessories. With home offices on two continents, branch offices across the U.S.A. and distributor locations worldwide, Godwin employs over 500 people and realizes sales in excess of $130 million.
"I am honored to accept this prestigious award on behalf of the Godwin team," said John Michael Paz, president, Godwin Pumps. "Special thanks to my parents for their support over the years and to my employees for their tremendous dedication to the business and faith in me as a leader. These folks are the true entrepreneurs."
About The Ernst & Young Entrepreneur Of The Year® Program
The Ernst & Young Entrepreneur Of The Year Program was created and is produced by professional services firm Ernst & Young LLP. As the first award of its kind, Ernst & Young Entrepreneur Of The Year recognizes outstanding entrepreneurs who are building and leading dynamic and growing businesses. The program honors entrepreneurs through regional, national and global award programs in over 100 cities and 35 countries.
About Ernst & Young
Ernst & Young, a global leader in professional services, is committed to restoring the public's trust in professional services firms and in the quality of financial reporting. Its 100,000 people in 140 countries around the globe pursue the highest levels of integrity, quality, and professionalism to provide clients with solutions based on financial, transactional, and risk-management knowledge in Ernst & Young's core services of Audit, Tax, and Transaction Advisory Services. Ernst & Young practices also provide legal services in some parts of the world where permitted.