KSB Donates Tens of Thousands of Euros for Flood Victims in Pakistan
Pakistani employees and KSB donate money for food, medicine, emergency relief supplies and infrastructure development. Water treatment plants and dewatering pumps are also on their way to the affected people. KSB has been present in Pakistan since 1953.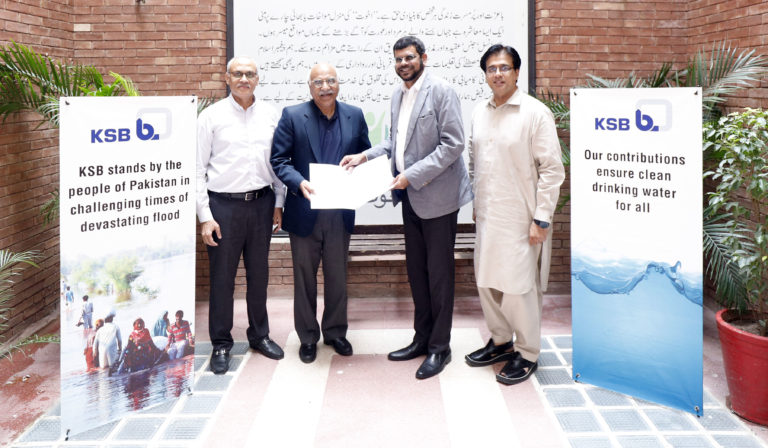 Imran Ghani (2nd from right), Head of KSB Pumps Company Limited in Lahore, presents representatives of the non-profit Akhuwat Foundation with part of the cash donation to alleviate the suffering of Pakistani flood victims. (Image source: KSB SE & Co. KGaA)
"We are dismayed by the situation in Pakistan and what is currently happening to the people there," says Stephan Timmermann, spokesman for the KSB Board of Management. "KSB has had business relations with this country since 1953 and so we have close ties with the Pakistani people."
He is all the more pleased that the employees of the Pakistani subsidiary KSB Pumps Company Limited alone are raising 10,000 euros. KSB Pakistan and KSB SE & Co. KGaA are adding to this amount. The total of 40,000 euros will be used for food, medicine, various emergency relief supplies and to rebuild the collapsed infrastructure. In addition, KSB Pakistan is supplying two water treatment plants and dewatering pumps to the affected areas.
Since July, heavy monsoon rains in Pakistan have caused flooding, landslides and flash floods. At least 33 million people - one in seven Pakistanis - are affected, and already a third of the country is under water. Almost one million houses have been destroyed or severely damaged, road networks have been damaged and food supplies have been disrupted as a result.
KSB is a leading international manufacturer of pumps and valves. With its headquarters in Frankenthal, Germany, the Group is represented on five continents by its own sales companies, manufacturing plants and service operations. In the 2021 financial year, the Group generated sales revenue of approximately €2.3 billion with around 15,400 employees.