Atlas Copco Launches a Fully Electric Range of Self-Priming Dewatering Pumps
Atlas Copco has developed a new versatile range of electric surface self-priming dewatering pumps for a wide variety of applications. The E-Pump range consists of different models with a canopy and open set configuration. This flexible solution is ideally suited for many applications like sewage bypass, in the municipality sector and construction projects with access to a power source.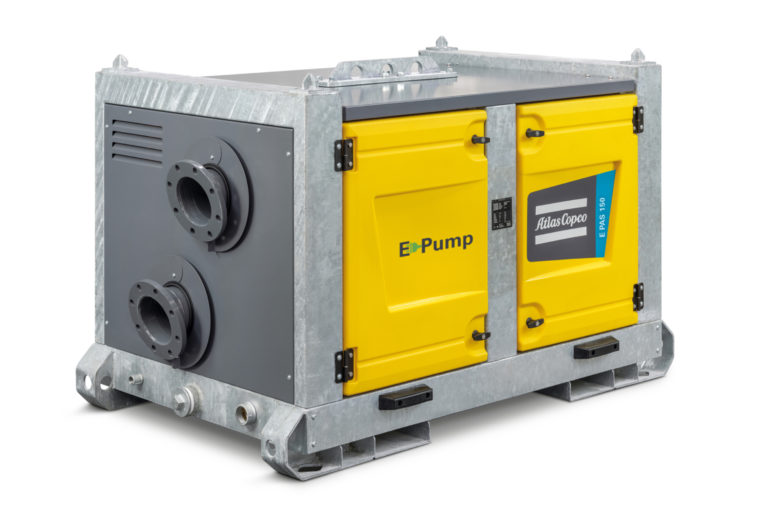 Atlas Copco launches the E-Pump, a fully electric range of self-priming dewatering pumps with a lower total cost of ownership. (Image source: Atlas Copco AB)
E-Pumps successfully manage demanding flows and large solids with lower Total Cost of Ownership (TCO) and no CO2 footprint during pumping operations with digital connectivity solutions.
The E-Pump range, which comprises the E PAS and PAC electric models, offers an exciting electric, no CO2 emission alternative to diesel-powered surface dewatering pumps during pumping operations. This allows customers to reduce their emission footprint and operate in emission-restrictive areas with no fuel consumption. While the PAC electric pumps, an open configuration range with a galvanized frame, will mostly address the North American market, the E PAS is designed with a canopy to meet customer needs in Europe.
Our E-Pump range is quick and easy to install, making it a Plug and Pump solution. Both the E PAS and PAC electric models have a tremendous impact on the overall productivity of the units, lowering the total cost of ownership compared to their diesel counterparts and ensuring high performance for longer periods of time.
The E PAS has a unique intelligent priming solution that ensures that the pump's priming system only runs when strictly necessary, reducing energy consumption and noise generation under normal operating conditions. In fact, the E PAS emits reduced noise levels, making them ideal for noise-sensitive environments. The priming system ensures no carryover contamination, and the canopy set units are up to 120% spillage-free, keeping the workplace and environment clean. E PAS dewatering solutions can intelligently start and stop based on float signals.
The operating expense of the E PAS is up to 40% lower, depending on the difference between local diesel and electricity costs. Also, the maintenance and servicing costs of electric motors are substantially lower than diesel engines. Time to service is less with patented hinge doors for ease of access to serviceable parts. The E PAS model features Atlas Copco's variable speed drive (VSD) solution, increasing the efficiency of the pump and offering energy savings of up to 40% with an extended pump life. However, one of the most significant cost benefits of the E-Pump range is its compact size for storage. With a reduced footprint, canopy set units can also be stacked in a two-plus-one configuration, making them easy to store. In addition, as many as 20 E PAS units can fit into a Euro Truck in a one-plus-one stacking set, resulting in improved operational efficiency for customers.
"The E PAS and PAC electric lines of surface dewatering pumps are an exciting addition to the electric-powered range of products from Atlas Copco," says Saksham Dube, Global Marketing Manager at Atlas Copco Power & Flow. "They offer excellent performance, low cost of ownership, reduced footprint and unique digital connectivity, contributing towards Atlas Copco's efforts to create a more sustainable future."