Jet Edge Introduces New Large Format Waterjet Cutting Machine
27.01.2009
Jet Edge, Inc. is pleased to introduce its new large-format Mid Rail Gantry Waterjet System. The Jet Edge large-format Mid Rail Gantry Waterjet System features a 21'X13' work envelope with an exposed tank that easily accommodates overhead loading.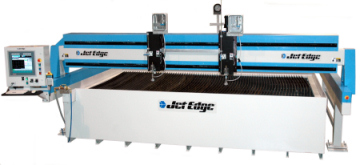 Jet Edge
It comes standard with one abrasivejet cutting head; a second cutting head can be added to increase productivity.
The Mid Rail Gantry is ball-screw driven for higher accuracy. Its sturdy heavy-wall tubular steel construction eliminates vibration and increases longevity. The Mid Rail Gantry utilizes an industrial PC controller and can be configured so that all three axes are fully programmable (Z optional). It also features direct-couple AC brushless digital servo motors and single or double carriages. Critical bearing components are protected with heavy metal covers with brush seals.
The Mid Rail Gantry waterjet machine also is available in an 8'X13' size.
About Jet Edge
Established in 1984, Jet Edge is a global designer and manufacturer of waterjet systems for precision cutting, surface preparation and coating removal. Jet Edge systems are used around the world in a broad range of industries, from the world s leading airlines to automotive, aerospace, industrial manufacturers, machine and job shops. Jet Edge waterjet systems are proudly made in the U.S.A.