Immediate Order of New Wärtsilä Waterjets for High-Speed Ferry
The Wärtsilä WXJ series of modular waterjets, recently introduced by the technology group Wärtsilä, has quickly been selected for its first installation. A new 100 metres long, wave-piercing catamaran ferry being built for the Government of Trinidad and Tobago at the Incat shipyard in Tasmania, Australia will be powered by four Wärtsilä WXJ1200 waterjets. The order was booked in March 2019.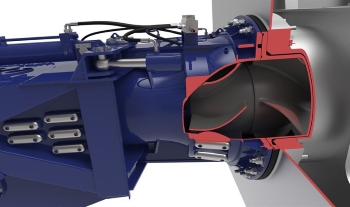 The Wärtsilä WXJ series of waterjets feature high performance with less noise and cavitation. (Image: Wärtsilä)
The series is a further development and upgrading of the Wärtsilä LJX waterjets. Even greater efficiency has been achieved, and the cavitation and underwater noise levels are lower than with the LJX series. The small transom interface dimensions, and the best-in-class weight remain from the earlier series, but the overall performance is improved.
"We are proud to have been selected again to deliver our Wärtsilä waterjets for this new high-speed ferry. The well-proven design of Wärtsilä's waterjets has led to a significant number of repeat orders from world-renowned fast ferry builders, such as Incat. Also, the Government of Trinidad and Tobago is already operating multiple catamarans powered by Wärtsilä waterjets, which means that both the yard and the owners are very familiar with the [...] quality and performance of our waterjet solutions," says Lars Anderson, Director Propulsion, Wärtsilä Marine.
"We have worked with Wärtsilä for many years already, and we have complete confidence in their waterjets. The new WXJ series takes the performance to an even higher level, bringing even greater value to this exciting new vessel," says Tim Burnell, CEO, Incat Tasmania.
In addition to the four WXJ waterjets, Wärtsilä will also supply the Wärtsilä ProTouch operational control system. The equipment is scheduled for delivery in May 2020, and the ferry is expected to be handed over to the owners in late 2020. The ferry will be capable of a service speed of 36 knots. It will be able to carry up to 1000 passengers and 239 cars, or a combination of trucks and cars.
Wärtsilä axial waterjets are single stage, compact, high performance systems that combine mixed flow properties with an axial construction. This results in much less space being needed on the vessel's transom, and greatly increased waterjet cavitation margins for optimum vessel operational flexibility. For naval architects, the axial jet technology creates the possibility to apply a larger power density onto narrower hulls in order to achieve top vessel performance.