ITT Water & Wastewater's New Jet Aerators Reduce Total Cost of Ownership
ITT Water & Wastewater announces the launch of the new generation of Flygt jet aerators. Based on the clog-free Flygt N-pumps, the new Flygt jet aerator has become easier to install and maintain.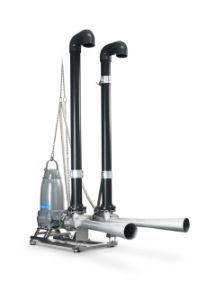 The new generation of Flygt jet aerators is based on ITT Water & Wastewater's long experience of aeration and mixing in wastewater treatment plants. The new jet aerators provide a better working environment for personnel during installation, operation and maintenance. The plug-and-play solution can mean lower capital investment costs and can be installed without emptying the tank.
The major changes in the new generation Flygt jet aerators are:
an improved lift in, lift out structure using Flygt's proven lifting technology for pumps
a strengthened stand equipped with rubber dampers
"Apart from the new Flygt jet aerators being easy to install, the service intervals are very long," says Rachel Davies, Product Manager Aeration, ITT Water & Wastewater.
Available with up to three ejectors, the Flygt jet aerator is a flexible aeration solution for small and medium-sized tanks. The proven N-pump technology guarantees a smooth non-clogging operation with minimal maintenance.
Installation on the tank bottom means significantly less spray, low vibration and low noise levels, which greatly improves the working environment.
The Flygt jet aerator is corrosion resistant and is widely used in industrial and sludge applications.
"Our products are built on experience drawn from ITT Water & Wastewater's installations all over the world. By choosing a Flygt jet aerator built on Flygt's clog-free N-technology, you maximize uptime and minimize the need for maintenance," says Rachel Davies.