IFAT Eurasia 2017 Covers More Space
IFAT Eurasia, the International Trade Fair for Water, Sewage, Refuse and Recycling, will be opening its doors for the Eurasian environment industry on February 16, 2017.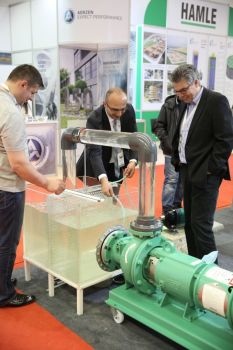 More than 200 exhibitors have already announced their participation (Image: IFAT Eurasia)
More exhibition space has already been allocated than at the previous event in 2015. This year's trade fair will be spread over three halls at the Istanbul Expo Center (IFM), thus covering more than 17,000 square meters.
So far, more than 200 companies have registered for IFAT Eurasia 2017, including many new exhibitors from Turkey and abroad. Newcomers include, for example, Ak-Kim Kimya, Alfred Kärcher, General Elektrik Ticaret ve Servis, Speck Pompa and Teksin Konteyner ve Galvaniz. There is particularly strong interest from China this year. The Chinese country pavilion has grown by more than half, to 13 exhibitors. There will also be a joint German booth for the first time, with 18 companies taking part.
Meeting point for politics and commerce
The Eurasian market is of crucial importance to the environment industry, as reflected in the announcements to attend by numerous economic delegations. Delegations from Germany, Greece and Tunisia are planned. In addition, high-ranking industry experts and politicians have also announced their participation in the event.