Heavy Duty in Mining Application
The comprehensive Caprari range, which includes Deep Water, Surface Water and a range of Waste and Drainage pumps, incorporates many innovative features offering significant benefits to the user.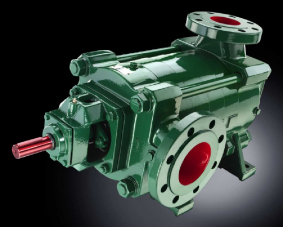 Caprari
The Caprari PM series of pumps is available in sizes from 50mm to 150mm. The pumps are capable of flows up to 160l/s and head pressure up to 1000 m. The PM series comes in a number of different configurations including gland packed and mechanically sealed; PN25 to PN100; single and double shaft extrusions; to name a few. High performance, efficiency and robust construction are the main feature of this series.
Efficiency and Reliability
The challenges of mine dewatering have been around since mining started. As underground mines get deeper, the challenge of dewatering increases. This challenge has been taken up by Tru-Flo Industrial Pumps of NSW. The pumps used in the photographed installation at Douglas Coal are Caprari PMST100HS/8A; an eight (8) stage horizontal multi-stage pump delivering 39l/s @ 550 m head. These particular units were fitted with bronze impellers, mechanical seals and bearing temperature sensors. Caprari pumps have been chosen for their efficiency and reliability, as down time at the mines is expensive.
Caprari Pumps are manufactured under DNV certified ISO 9001 Quality and ISO 14001:2004 Environmental Management Systems.