CFturbo 2020 R2 – New software version available
The new CFturbo version contains a number of significant enhancements.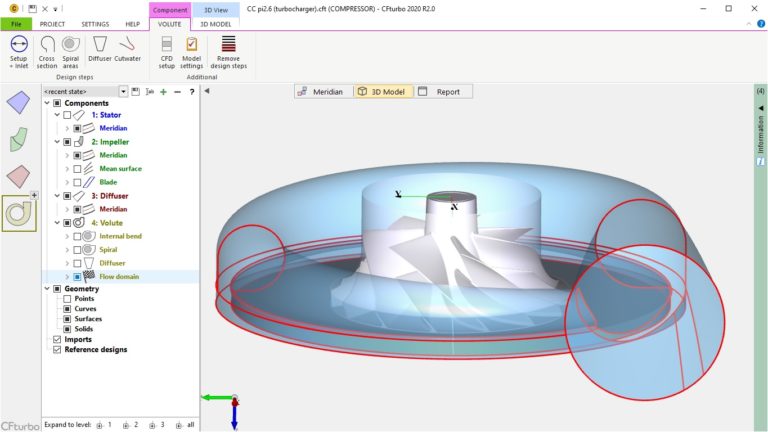 Sharp Cutwater for internal volutes. (Image source: CFturbo GmbH)
New features can be found in almost all program areas:
Composite mean lines, optionally with ßB = const.
In a particular diameter range at leading and/or trailing edges, composite mean lines can be designed to force constant regional  blade angle ßB1 and/or ßB2.
Enhanced Cordier Diagram
Switching between relative and absolute values is available. Absolute values in the Cordier diagram may be more intuitive for some CFfturbo users when evaluating the calculated impeller´s main dimensions.
Parasolid export with surface names included
The named surface export for Parasolid models is an essential improvement for many CAD/CAE software interfaces and more streamlined workflow setup.
Sharp Cutwater for internal volutes
From now on, the very special internal volutes can be directly used for CFD simulations, since there is a watertight model available for export.
User specification of limit values for warnings
The user can specify his warning limits for some essential parameters in the preferences for his personal use.
Meridional preview for recent and sample
The Cfturbo start screen shows a simplified meridional sketch of the recent and sample models, which should assist to re-open the right file for further project work.
Additional diagrams for CoolProp fluids
Diagrams for vapor pressure and specific heat are available for two-phase fluids selected from the CoolProp database.
Enhanced model finishing
The 3D-CAD model finishing has been improved for fillet in general and for leading edges of bowl diffusers in particular, to ensure high-quality export files.