Grundfos Supports Hurricane Relief Efforts
Grundfos Pumps Corporation donates money to the victims of Hurricane Katrina. Grundfos and its employee's are donating more than $127,000 towards the relief of the hurricane victims.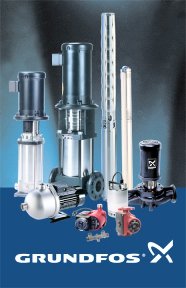 Some of the products that Grundfos will be using in the damaged areas (photo: Grundfos).
Two of Grundfos' employee's were directly in the path of the storm. Fortunately, both of them and their families are safe. They are assisting other victims and their families in their own way. Hardest hit were the Gulf coast states of Louisiana, Mississippi, Alabama and portions of Arkansas.
Employees at the USA, Canadian sales and manufacturing locations are making individual contributions of time, money and other donations. The combined Grundfos locations operating in North America donated funds as well - Mexico, Canada and the three in the United States.
The majority of the funds will be donated to The American Red Cross, but other charities are being supported as well.