Gemü 553 Distribution Valve with Modular Body Concept
Modern and compact valve solutions are much in demand in plant engineering, for use in a wide range of applications. In addition to demanding requirements in terms of pressure and temperature, modular-style and expandable valve solutions are becoming increasingly popular.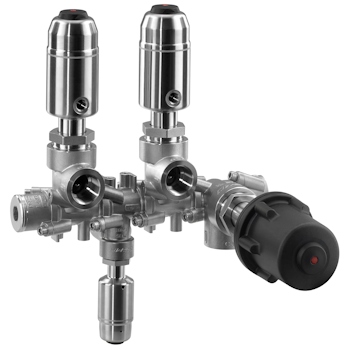 Distribute, mix and collect: The GEMÜ 553 distribution valve with modular body concept (© 2015 GEMÜ Gebr. Müller Apparatebau GmbH & Co. KG)
Through their adaptability to individual situations, a high level of flexibility can be achieved for a range of different applications with the modular Gemü 553 distribution valve.
The Gemü 553 series consists of high-quality, stainless steel investment cast bodies that can be very easily connected together in series using a tried-and-tested seal system. In terms of actuator unit, pneumatically operated actuators made of stainless steel or plastic are available from the Gemü modular system. These can, depending on requirements, be used in combination with a widely varied range of accessories, such as electrical position indicators, combi switchboxes and/or pilot valves.
Versatile application possibilities
Thanks to the diversity of combination options, as well as the technical properties it possesses, the valve can be deployed for a variety of different processes. In this regard, it can be used in applications where an extremely wide variety of different media are distributed, mixed or collected. In particular, the Gemü 553 is ideally suitable for the distribution of cooling and lubricating fluids on machine tools. In the mixing function, media with different properties can be mixed together, such as hot and cold water. In the collection application, a same medium is guided in the back flow to a common outlet. In the distribution function, a medium is guided to a variety of different consumers. With the aid of a universal module, it is possible to integrate temperature and pressure measuring directly into the process. Furthermore, media can be separated along the pipe train. As a result, it is possible to control the flow of two media or types of media (e.g. liquid or gaseous) independently of one another via the same valve configuration.
Thanks to the possibility of locking the individual connections in place in 90° increments, the valve arrangement can be ideally adapted to the most different of process and mounting conditions. Female threads in G1/2 and G3/4 are available for the connections. The module can be terminated at a desired point through separate connection and blanking flanges. The valve bodies are designed in pressure rating PN 25 and can be quickly and straightforwardly connected together via a threaded connection. When connected, the valve bodies are mutually sealed using O-rings.