Franklin Electric's Innovative Fhoton SolarPAK System Provides Modular, Cost-Effective Solar Water Pumping
Franklin Electric Co. announces the official launch of the new Fhoton SolarPAK System, which utilizes Franklin's proven solar technology with the new Fhoton solar controller. The Fhoton SolarPAK System features a Franklin Electric submersible pump and motor, and the Fhoton solar controller in one package.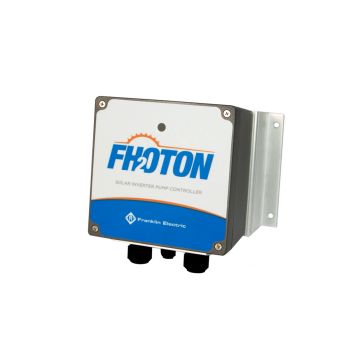 Franklin Electric Co., Inc.
When used with solar panels to power the pump and motor, the system draws groundwater to the surface for a variety of uses. The system is an ideal choice for remote or "off grid" areas where delivering water is impractical due to the availability of electricity or for homeowners that simply want to conserve energy. The catalyst behind this new system, the Fhoton solar controller, features a compact modular design, providing installation flexibility for the contractor. For added durability, it touts a robust IP66, NEMA 4 enclosure that protects against wildlife, insects, dust, and weather. The controller includes diagnostic features and built-in protection from potential harmful conditions, such as: surge, underload (dry run), overvoltage, locked pump, open and short circuit, overheated controller, and reverse polarity.
The Franklin Electric Fhoton SolarPAK System is cULus and UL approved and available in a variety of flow rates from 2.5 to 90 gpm (9.5 to 270 lpm) and power ratings of 0.75 and 1.5 hp (0.55 or 1.1 kW). Fhoton's motor control algorithm and hardware design enable the end user to get a higher solar- or photon-to-water energy conversion ratio, which means more water with less sunlight needed. It can drive a broad range of submersible and surface motor types and can be used in a new solar array or retrofit to an existing array in many cases, providing added application flexibility.
The Fhoton SolarPAK System supports a variety of pumping applications, including: livestock watering, tank/cistern filling, wildlife refuge and game farms, rural water supply for villages and homesteads, irrigation systems, fountains, vineyards, renewable energy projects, effluent pumping, rain harvesting, and more.
Most locations globally have ample sunlight to run a solar pumping system, and given the fact that solar panels are as cost effective as ever, there is immediate value for contractors to install these highly efficient systems. The technology is still new to many, so the entire solar package of panels, pump, motor, and controller/drive are backed by Franklin's team of Field Service Engineers to make the installation process simple. In addition, contractors can become a Franklin Certified Solar Contractor, which helps them identify market trends, selling tips, and become a solar pumping expert.
For solar installers looking to partner with a drilling or pump installation expert, Franklin Electric will connect them with its expansive network of water systems professionals.