Wilo-Rexa MINI3 Honoured with iF Design Award
The Wilo-Rexa MINI3 has now been awarded the renowned iF Design Award. In its statement, the jury praised not only the good and functional design of Wilo's submersible motor pump, but also its technical advantages, especially in times of increasing water shortage.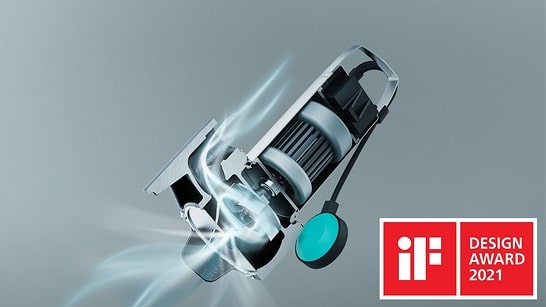 Compact design, high performance, maximum reliability: the award-winning Wilo-Rexa MINI3 in the truest sense of the word. (Image source: WILO SE)
"In times of water shortage, the treatment and reuse of wastewater is an important topic. The Wilo-Rexa MINI3 is the ideal standard submersible sewage pump for house and site drainage," reads the jury statement of the iF Industrie Forum Design e. V. Association. "In addition to the technical advantages, the sewage pump also sets new accents in design. In contrast to the competition, an asymmetrical housing, a clear alignment of the operating elements and a distinct colour scheme make it easier to use."
Wilo Product Manager Olivier Armbruster is delighted with the iF Award, which he sees as both an award and an incentive: "We made no compromises in the development of the Wilo-Rexa MINI3 - not in efficiency, not in performance and certainly not in reliability." Equally uncompromising is the design, where the focus is on functionality and operability. "Rainwater, ground water and sewage incur all the time in houses and on sites. With the Wilo-Rexa MINI3, this can be reliably and efficiently drained," says Olivier Armbruster. In addition, it is also uncompromisingly flexible and is suitable for stationary use as well as for mobile installation. "The Wilo-Rexa MINI3 is one of the industry's best examples of how functionality and design do not have to be opposites," explains Georg Weber, Wilo Chief Technology Officer (CTO). "We therefore also understand the iF Award not as a beauty prize but as recognition of a well thought-out industrial design that meets the demands of contemporary sustainability at the very highest technological level."