bauma 2022 Review: Pumps with Know-How
When it comes to dewatering, Tsurumi is the go to brand. In Hall 6, the pump manufacturer presented the new KRDX explosion proof dewatering pump and the new LSC2.75S residue pump. The company also demonstrated how to get all construction gear on site onto the network: namely, amazingly simply with the Tsurumi Connect-Box.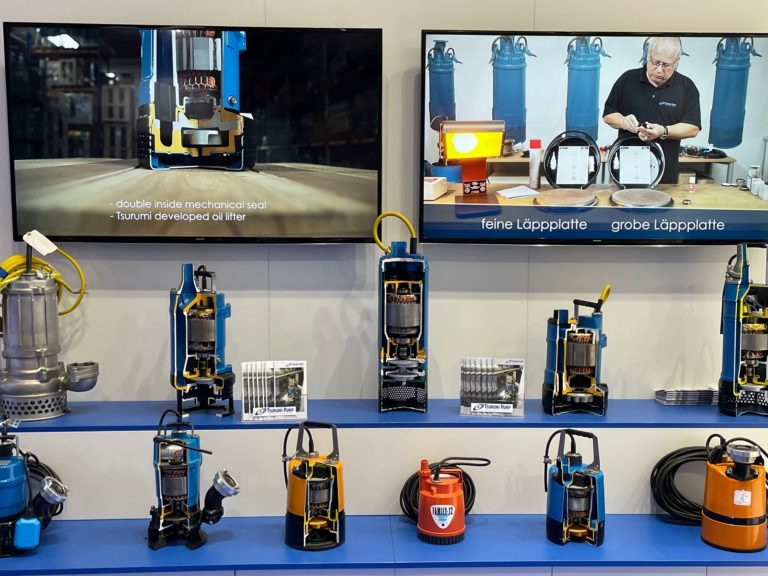 What makes a good pump design? The manufacturer Tsurumi showed its technology in detail - and how operators can easily carry out maintenance work themselves. (Image source: Tsurumi (Europe) GmbH)
With it, not only the company's own pumps can be controlled on the construction site. The solution also works with other devices from other manufacturers. Remote switching, location data, running logs, failure messages and more: lots of things are possible when Tsurumi's small hardware box is attached to the unit. The tracking data ends up in real time where the user wants it: PC, laptop or mobile phone can be used for remote control and analyse. All is "infinitely" scalable, they said.
The use of the system was demonstrated with the new KRDX submersible pump. It is designed for explosive environments and comes with IECEx and ATEX approval. The series has motor outputs from 3,7 to 7,5 kW. Thanks to the agitator and large pressure outlet, heavy sludge water is no obstacle, even if it contains soils with 33 grain diameter. The pumps can deliver up to 2200 l/min or 17 m head and are scheduled for market launch in early 2023.
In case water is left somewhere, Tsurumi now supplies the new LSC2.75S as a residue dewatering pump with a capacity of 228 l/min. It can absorb water up to 1 mm puddle height. This makes it ideal for taking up water from buildings, containers or roofs. The Tsurumi  team exhibited cutaway models to show how their technology works. A water basin had been set up in which pumps ran in wet live operation: a fine demonstration that went down well with the professional audience.