Flowrox Opens Subsidiary in Chile
Flowrox is glad to announce it has officially opened its sixth subsidiary Flowrox Spa in Santiago, Chile.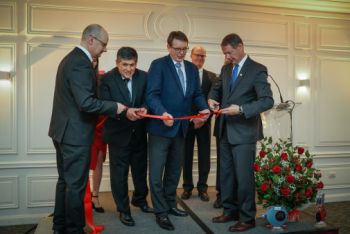 Flowrox
The opening ceremony was held on 24 April 2018 and was visited by numerous representatives, customers and business partners. Flowrox was honoured by presence of Mr. Mika Markus Leinonen, Ambassador of Finland in Chile.
Flowrox has a long history in Chile and South America. For 20 years Flowrox operated in the region through local Larox company, successfully supporting local customers. In 2010, Flowrox interrupted the operations, but now Flowrox resumes the historic commitment to the region. In 2016, Flowrox clearly established its presence in South America by appointing an area sales manager. Importance of business development on this continent led to the decision to found Flowrox's sixth subsidiary in Santiago, Chile.
Establishment of subsidiary is an integral part of the strategic plan for a long-term business development throughout South American continent, and also an important milestone to further expand Flowrox's global market. "This is a significant step to improve our services and supply of products to our customers and partners. With our own local organization, we will be able to offer high quality customer services and manage efficient distribution of our appreciated products", says Rafael López, Managing Director of Flowrox Spa.
"I am looking forward to be able to improve cooperation with local representatives and partners, engineering companies, and provide better service to all customers. I believe that more and more customers will benefit from better process efficiency provided by Flowrox products," adds López.
Flowrox is now able to significantly improve in close customer support, fast availability of components and service, local stock and responses in own language. Flowrox Spa is setting way for long-term cooperation build on dialogue and trust throughout whole South America.