Emile Egger Tests Elbow Pumps under Real Conditions
At Emile Egger, a global manufacturer of centrifugal pumps and Iris control valves, products are tailor-made according to customer specifications. A few years ago, the company analyzed its customers' requirements and then embarked on further developments of RPP/RPG elbow pumps to optimize them for higher flow rates and lower relative differential heads.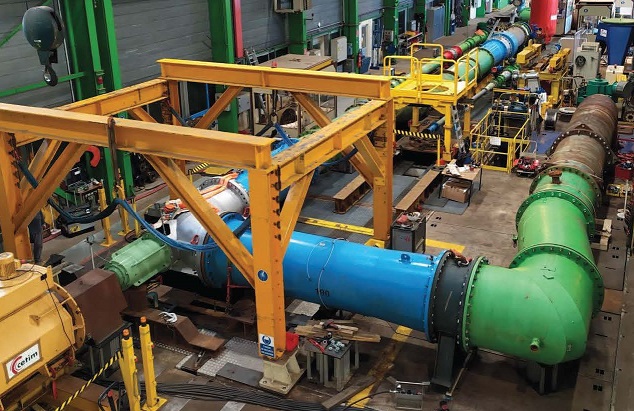 CETIM test bench (Image source: Emile Egger & Cie SA)
A new 3-blade propeller was sized with an increase in the relative radius of the elbow (Ratio radius: pipe diameter).
Performing water tests on pumps of such dimensions (diameter DN 800 to 1400), which transport a heavy liquid in operation, is a real challenge (for instance saturated brine with a specific weight of 1.4 kg/dm³ – a power at the point of service greater than 300 kW – a flow rate above 4 m³/s and a height of more than 3 m). For such tests, Emile Egger has been collaborating for many years with the CETIM (Technical Center of the Mechanical Industry) in Nantes.
Last year, a test was carried out on an RPP 1105 elbow propeller pump at nominal speed (speed, flow and head) to validate the sizing and thus ensure trouble-free commissioning. The CETIM of Nantes is a neutral and certified organization that can test large pumps with a frequency-driven motor up to one megawatt. The pressure measurements carried out downstream and upstream of the pump at a distance of 1 to 2 diameters as well as the flow and torque measurements according to ISO 9906 class 2, are certified and guaranteed.
The basis of the required performance was the specifications of the customer and an engineering office in the Basque Country. The request was to validate the operation of a propeller pump developed for a state-of-the-art paper mill plant in Indonesia. The system is designed to optimize the recovery process in the hardwood cellulose conversion industry for textile fibers and fine paper manufacturing, by treating 500 tons per day of precipitator separated ashes with Enhanced Chloride Removal Process (ECRP).
Previously, the standard pipe bend propeller pumps achieved a maximum efficiency of less than 75 percent. The introduction of the new impeller and casing should increase the point of maximum efficiency to 80 percent. And this maximum efficiency was actually achieved on the CETIM test rig in Nantes in February 2020. In addition, the conditions required by the customer were also met, since the operating point is not necessarily at the point of maximum efficiency.
These various tests allowed the company to obtain a characteristic curve with certified values over a given flow range, in compliance with specifications and tolerances.