Ebara Donates Pumps to Yangon Technological University in Myanmar
Ebara Corporation donated pumps to Yangon Technological University in Myanmar on December 5 as part of its international cooperation activities through technical guidance. The objective is to deepen their understanding of pump structure, learn how to control them, and so on by experiencing real pumps during the classes.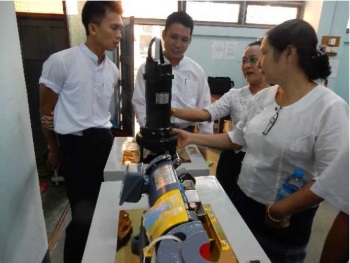 Students surrounding donated pumps (Image: Ebara)
A short pump seminar was held at Yangon Technological University on the day pumps donated, more than 30 students and teachers who studied mechanical engineering attended it.
Background
As its economy grows, Myanmar must urgently address the issue of developing the water infrastructure to keep pace with urban development. Faced with a shortage of engineers capable of planning pumping facilities at water supply, drainage and wastewater facilities, universities are focusing on developing human resources in this field. To date, Ebara has held more than 10 pump seminars in Myanmar.
About Seminars
Ebara has continued to deepen its relationships around the world through the provision of technical guidance and other forms of international cooperation. Since the launch of the Ebara Hatakeyama Memorial Fund in 1989, it has organized more than 270 seminars at different locations around the world, welcoming upwards of 13,000 participants. This year, Ebara set to give six seminars in locations such as Vietnam and Thailand and will set to give six seminars next year.
Future Plan
Ebara Group established a branch in Yangon in November 2015 and has been receiving many inquiries. Ebara will continue to contribute to the development of Southeast Asian countries not only by offering pumps and other products and services, but through technical seminars and other international cooperation activities.