EagleBurgmann Acquires Tianjin Nibot Seal Technology
EagleBurgmann, a Joint Venture of the Freudenberg and EKK Group, acquired Tianjin Nibot Seal Technology Co. Ltd., the Chinese company in Tianjin, to 100% on June 19, 2015. Tianjin is a major industrial center and an important seaport in the northeast of China, approximately 145 kilometers from Peking.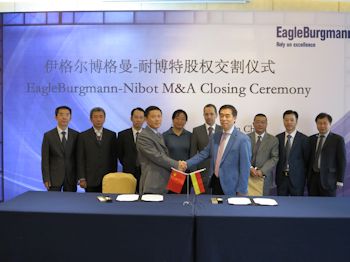 The acquired company is an experienced specialist with regard to maintenance, retrofit, repair and service of gas seals in the e.g. oil&gas and petrochemical and chemical industry sectors. Over many years it has made a very good name for itself with international end users at the northeast coast of China. "The acquisition is important to us in so far because it noticeably boosts our strategic alignment towards the end user business in China, making us even more competitive," says Dr. Stefan Sacré, CEO of EagleBurgmann. "In addition to our successful business with compressor manufacturers, our newly acquired experts now let us offer even better and more long-term service for gas seals."
EagleBurgmann has more than 13 sales offices and Service Centers located in industrial conurbations such as e.g. Beijing, Dushanzi, Guangzhou, Nanjing, Ningbo, Shenyang, Tianjin, Wuhan, Xinjiang, Xi'an, Yulin or Zibo. And so the new subsidiary Tianjin Nibot Seal Technology, who owns numerous patents and licenses and is listed as supplier with the major operators, has access to a comprehensive network of locations. "With this acquisition we vastly improved our opportunities and growth possibilities in the oil&gas or petrochemistry markets. Our mutual engineering and production know-how with strong service orientation enables us to decisively expand our position as the provider of high tech seal technology," explains Simon Guo, CEO of EagleBurgmann China.
As one of the worldwide leading seal manufacturers, EagleBurgmann has been represented in China since the mid-1990s with more than 400 employees. The subsidiaries and Joint Venture with EagleBurgmann majority shareholdings in Shanghai and Dalian have become successfully established in the market as a result. In recent years the company has been certified several times in accordance with management systems such as ISO 9001, 14001 or OHSAS 18001 and is listed as a supplier for major pump and compressor manufacturers.
Picture: The acquisition is sealed in a festive ceremony: Yong Li (General Manager Nibot) and Simon Guo (CEO EagleBurgmann China) look forward to the future cooperation "under one roof." The management of Nibot (left) and EagleBurgmann China (right) in the background. (Image: EagleBurgmann)