Dresser Rand Introduces Client Interface and Response System
To better serve its clients worldwide by managing equipment-related information, Dresser-Rand is introducing the Client Interface and Response System (CIRS).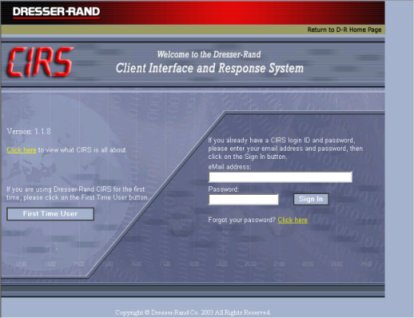 This web-based interactive tool allows D-R's clients to use the Internet to raise issues or make technical inquiries about specific pieces of equipment. The system creates a "living case history" of these inquires that can be tracked from start to finish.
CIRS provides clients with opportunities to check on the status of any of their equipment issues. For D-R, the system encourages responsiveness by making it possible for team members around the world to access the same data and information in chronological order.
According to Ron Allen, project leader for CIRS, the program is a direct result of a cooperative effort between D-R and key clients who needed greater access to project information. "Several of our major clients – particularly those with which we have long-term alliances – requested that we track their equipment relationships with D-R," Allen said. "The ability to provide this live, on-line system gives us a more efficient means to improve product quality and makes corrective action quicker and easier."
Dresser-Rand went live with the system for clients worldwide late in 2003. In addition to providing an effective system to track client concerns on various projects, CIRS allows D-R and its clients to track progress, as well as provide a centralized database of all previous client input.
"The principal role of the CIRS program is to allow all parties involved to remain current on the status of any inquiry or problem that a client may be having," Allen explained.
With CIRS, a case number is assigned whenever a query is made to Dresser-Rand, either directly to a D-R representative, or through the online system. A D-R administrator is designated to assign the case to a D-R representative who is responsible for the resolution of that case to the satisfaction of the client. D-R employees continuously update information in the system and monitor each step of the process until a satisfactory response is made.
Clients must first register in the CIRS program before being able to submit issues into the system or to access their file. Once registered, a client may access the system at any time to submit new issues and check the status of their issues that were entered into the system.
To register, D-R clients should access the company's web site, click on the CIRS registration button, and provide the necessary contact information. Once registered, the client will receive an email notice containing a password and a link to the CIRS system.
With the new CIRS system, Dresser-Rand offers an even better method of managing client requests and information. "Ultimately, the Client Interface and Response System is all about ensuring satisfaction," said Allen. "It helps us demonstrate that inquiries are being handled in a timely fashion. The added benefit is the speed with which both D-R and our clients are able to instantly access complete and valid information on their equipment issues."
Dresser-Rand is a leader in energy conversion technology, with field-proven centrifugal and reciprocating compressors, steam turbines, expanders, gas turbine packages, and control systems. The company is positioned to deliver a complete package of solutions, from initial concept to equipment retirement for the oil and gas, chemical, and petrochemical industries. Additional information about the company can be found on its web site. Dresser-Rand is part of worldwide Ingersoll-Rand (NYSE:IR).