Compact Rotary Lobe Technology for High Volumes in a Limited Space
In addition to the progressing cavity technology, the Netzsch portfolio also includes a series of rotary lobe pumps: The major special feature of the self-priming, Tornado T2 series is its synchronised gear with belt drive which, in contrast to standard timing gears, is extremely resilient and easy to maintain. A belt with teeth on both sides transmits the power from the motor to both rotary lobes while at the same time synchronising them.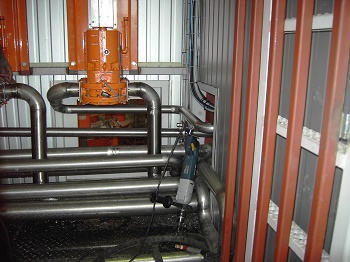 Rotary lobe pump for oil and gas industry. (Image: Netzsch Pumpen & Systeme GmbH)
The strength of this rotary lobe pump in the oil & gas sector is above all characterised by its compact size, reversibility and solid-matter compatibility. If indeed a solid foreign body should block the pump chamber, it can easily be accessed for maintenance and cleaning work by simply removing a few screws.
The direction of flow of the pump can easily be reversed, so that the same pump can for instance be used both for filling and emptying, thereby saving space and costs.The possible flow rates over the various sizes range from 3 m³/h to over 900 m³/h. The pump can also be installed in any orientation and has a very space-saving design, as the motor is mounted directly above the pump chamber. This was, for example, essential for an application in the explosion protection zone 1 of a preparation unit with a very narrow design into which the pump was directly integrated. There, it ensures the feed of the pumped oil-sand mixture, with a kinematic viscosity of 30 to 35 mm²/s and a temperature of 60 °C, into a separator where the remaining sand and water are filtered away.