Bringing Whitewater Power to the Beijing Olympics
In the challenging sport of competitive kayaking, there have been very few four-time Olympians. But when the summer Olympics come to Beijing in 2008, ITT Flygt's name will be added to the exclusive list.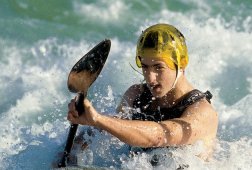 ITT Flygt has been selected for the fourth time to provide the pumps that will power the Olympic whitewater kayaking course. Six Flygt branded pumps will push up to 5,000 gallons of water per second through the 500 metre course, and push the world's best kayakers to the limits of their athletic capabilities. The pumps will mimic the unpredictability of whitewater in the wilderness and create the river-like conditions.
Flygt pumps have been used in previous Olympics, Barcelona, Sydney, and Athens. In addition, they are the driving force behind many civilian aquatic parks in Europe. Flygt's Computer Fluid Dynamics simulation software can be used to show customers how different pumps can be positioned and operated to control the power, height and speed of the rapids.
"ITT Flygt is delighted to have been awarded this prestigious contract for the fourth time," says, Phil Tutty, ITT Flygt's managing director. "The Games in 2008 will be 'green'; with energy-efficient, environmentally friendly sites and structures. The pumps' power needs are far under the allowable limits and the fact that they are submersible and therefore silent, was also a key environmental factor in the decision to use them."
The course, designed by the Beijing Tian Hong Yuan Fang Design Institute, is due for completion in March 2007. It will be used for training prior to the Olympics and will be open to the public following the 2008 Summer Games.