Blackmer TXH35A Pumps Designed for Handling Fuel Oil
Blackmer announced that its TXH35A Series Sliding Vane Pumps feature the cast-iron materials of construction that make them ideal for use on tank trucks and transports that handle clean, non-abrasive and non-corrosive petroleum products, such as fuel oil.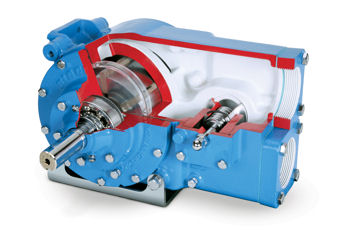 TXH35A Pump (Image: Blackmer)
The TXH35A pumps feature vertical parallel porting for easy piping and are installed through the use of three-position flexible mounting brackets. Other features that increase the reliability of the TXH35A pumps are grease-lubricated ball bearings, cartridge-type mechanical seals, a hardened-steel drive shaft with a ductile-iron rotor, symmetrical bearing support for even loading and wear, and pressure-sensitive adjustable relief valve. The self-priming and dry-run capabilities of the TXH35A provide loading and unloading flexibility for fuel oil delivery trucks. The TXH35A also lowers downtime thanks to the unique sliding-vane design that self-adjusts for wear and delivers easy maintenance without the pump needing to be removed from the truck. Optional components for TXH35A pumps are 3-inch cast-iron NPT or steel-weld pipe flanges and hydraulic motor adaptors.
The TXH35A pumps offer speeds up to 1,000 rpm and flow rates as high as 1,136 lpm (300 gpm). They can also handle viscosities up to 4,250 cSt (20,000 ssu) at operating temperatures to 115ºC (240ºF).