Atlas Copco Compressors Appoints Stef Lievens as Industrial Air Business Line Manager in the UK
Atlas Copco Compressors has announced the appointment of Stef Lievens as business line manager of its Industrial Air division in the UK.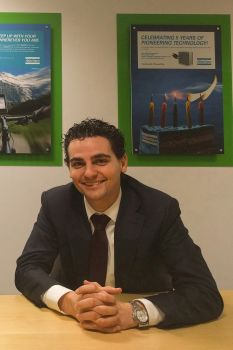 Stef Lievens (Image: Atlas Copco)
"My primary aims are threefold. Firstly, changing the perception of Atlas Copco as just a compressor supplier to one in which we're seen, correctly, as a provider for compressed air and industrial gas solutions including quality air solutions. Secondly, taking on a greater consultancy role within the industry, in which we help to educate air users about the benefits of investing in energy-efficient equipment. Finally, continuing to embrace the unstoppable movement towards big data and the IoT by extending full internet connectivity to the next generation of compressed air systems."
A Belgian citizen, Lievens has a Master of Science in Mechanical Engineering and Business Administration from the University of Leuven, Belgium. In 2010, he joined Atlas Copco's production facility in Antwerp as a manufacturing engineer. In this position he contributed to the development of air compressor technology before switching to an aftermarket specialist role; in which he was tasked with establishing optimum serviceability features within new product design developments.
In 2015, Lievens transferred to Atlas Copco's UK customer centre as business line manager for service operations within the Compressor Technique Service (CTS) division. His focus then was on improving the company's customer experience by enhancing offerings that increase air system uptime, such as the SmartLink data monitoring program; and on optimising systems and processes behind the scenes.
In his new role, Lievens and his sales team will continue the division's customer-centric focus on offering reliable compressed air and industrial gas solutions that have a short payback. In addition to this, the division will seek to raise awareness of complementary technologies that offer improved productivity; such as quality air ancillaries, energy recovery systems, remote monitoring programs and real-time control and management software.
Lievens commented: "While we will continue to increase Atlas Copco Compressors' representation across the UK through direct and distributor sales, my mission is also to ensure we're seen as professional air consultants and energy-efficiency specialists at boardroom level. Our sustainable productivity message is of as much importance to a customer's energy managers as it is to its plant and engineering personnel." He maintains that the company's offering must reflect real-world applications and process demands and, to this end, he will continue with a programme of gathering and analysing data from customer feedback.
In addition to his mainstream activities, a secondary role will include the investigation of funding initiatives to support investment in energy-efficient equipment and raising awareness of these opportunities within the division's customer base.
In his leisure activities, Lievens, who with his wife has made his UK home in St Albans, likes nothing better than travelling, for which, in his promised nationwide customer fact-finding missions it seems there will be ample opportunity. Since moving to this country, he continues to enjoy the beauty of the English countryside and explore the attractions of the West Country in particular, whenever possible.