Allweiler Pumps Detect and Prevent Leaks on Ships
In response to elevated safety and environmental regulations on ships, Allweiler AG has begun equipping its "SNS" series of screw pumps with the optional "Allseal" intelligent leak-detection and -collection system. These pumps are used primarily to move diesel fuel and lubrication oils on ships.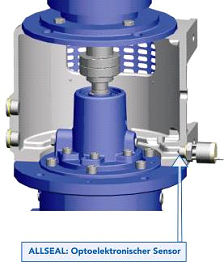 Allweiler AG is ready to equip its "SNS" series of pumps with "Allseal", an optional intelligent leak-detection and -collection system in order to comply with elevated safety and environmental regulations.
Safety and environmental regulations have become increasingly stringent over the past few years, and the Marine segment is no exception. In fact, leaks of any kind in the machine spaces of ships are no longer permitted. Even small leaks like those previously tolerated for functional purposes are now prohibited. In response, Allweiler AG has developed an intelligent and cost-effective solution that prevents uncontrolled leaks from pumps used in ships.
Finding a solution was not an easy matter. Since every mechanical seal in a pump requires a film of lubrication between its gliding surfaces, small leaks of a few milliliters per hour are necessary. Without this lubricating film, the mechanical seal would quickly fail.
Summary: The Allseal system utilizes the coupling bracket to capture this leak. A non-wearing opto-electronic sensor is located in the wall of the bracket. As soon as the liquid level reaches the sensor s prism tip, it sends a signal. Another benefit of using this system is that calculation of a time interval in the controller can also detect whether the mechanical seal is beginning to suffer damage.
These characteristics make "Allseal" a highly cost-effective solution. Environmental pollution is eliminated. And safety regulations are complied with. Furthermore, sensor monitoring protects the mechanical seal and reduces unnecessary and unplanned downtime.
Allweiler provides "Allseal" for vertically installed screw pumps like those of the "SNS" and "Allfuel" series. Existing pump units can be retrofitted at any time. As an alternative to "Allseal", these pumps can also be delivered with a hermetically sealed magnetic coupling.
Allweiler board member and Colfax Senior Vice President, Dr. Michael Matros outlines: "Allweiler is the only manufacturer to offer a complete approach to sealing, covering everything from the mechanical seal to leak-detection systems and hermetically sealed magnetic couplings."