ACHEMA News 2003 – Part 1
ACHEMA is the most important trade fair for the chemical and processing technology. The online pump magazine impeller.net reports about the most important developments in the pump technology sector in several parts
The ARBO immersible sump filter pump Sumpro with filter housing model IC is an air and foam free dry running resistant pump. It is suited for purification of corrosive liquids, e.g. in the printed circuit board industry.
Argal extends the ROUTE range of pumps for chemicals. These close-coupled pumps are available with magnetic drive (TMR) as well as with mechanical seal (ZMR). The mag driven version is equipped with a patented self-alignment system. By using an extra magnetic field the impeller is axially aligned. In case of dry-running, this system avoids friction and heat increase and protects the pump from damages.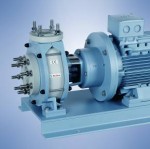 The pump range of ASV Stübbe is extended in the economical NMB range of closed coupled pumps. Because of redesigning the shaft bearing it is now possible to use a motor up to a size of 160 with a max. power rating of 15 KW at 1450/2900 rpm. Flanged standard motor according to IEC or Nema can be used with a flanged adaptor. The max. capacities of these pumps are 100 m³/h with a head of 35 m at 1450 rpm and 200 m³/h with 60 m at 2900 rpm.
High pressure but small size, these are the outstanding characteristics of the chemical multi-stage closed coupled vertical sump pumps type ETLB. This is why now small immersion pumps can also be used, whereas before you had to install large aggregates for high pressure.
Bungartz shows special centrifugal pumps for the use in potentially explosive locations according to the EU Directive ATEX 100a. The vertical centrifugal pumps are suitable for ATEX zone 0.
The new double hose-diaphragm piston pump of Feluwa features a high level of safety, availability and reliability. The leak-proof reciprocating displacement pump with double sealing is provided with a smooth working chamber, which is easy to clean and hermetically sealed from the hydraulic actuation system by two hose-diaphragms. The process pump handles aggressive and abrasive fluids and suspensions at maximum safety and sensitive slurries particularly carefully without destruction of particles.
The non-metallic polymer baseplate Chembase Plus from Goulds combines perfect corrosion resistance with a flat mounting surface and enhanced strength and rigidity. These facts result in considerable savings of money on preparation, installation and maintenance compared to conventional steel bases with comparable features.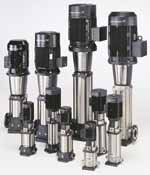 Grundfos provides individual pump solutions with a range of custom-built variants of the multi-stage pump series CR. Almost any conceivable requirement can be met, either by an existing solution, or our customisation taskforce will get to work. They will endeavour to produce a viable solution, one that will fully live up to the actual requirements without compromising the Grundfos standard for overall product quality.
SHOWFOU Electric Machine, manufacturer of water pumps, electric motors and blowers, presents the GV series of submersible pumps. The very lightweight design features a Vortex impeller and a double-casing construction for water cooling of the motor. The pump is available for manual operation or for automatic operation with automatic level control.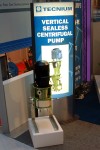 By applying a hydrodynamic seal the Tecnium vertical centrifugal pumps are operating without a mechanical seal. The construction features dry running capability. Different plastic materials cover a large part of corrosion and abrasive resistant applications.
Varisco presents the new ST series of self-priming centrifugal pumps that are now available in sizes up to 8". The dry-installed pumps can be used instead of submersible pumps for sewage lift stations and industrial waste water treatment. Because of the lower maintenance cost, the total LCC can be reduced.
The combination of a mill and a chemical process pump within one single machine is presented by the milling pump of WERNERT-PUMPEN. The pump is made of an abrasion resistant mineral cast. It allows wet-milling of slurries down to 2 µm middle particle size. The pump capacity reaches up to 15 m³/h and 65 m.
Wilo has expanded its multi-stage centrifugal pump series MVI and MVIE in the upper power range. The new models MVI 7000 and MVI 9500 can be used up to a maximum flow of 140 m³/h and a maximum head of 240 m. The new models MVIE 3200 and 5200 with integrated frequency control are suitable up to 90 m3/h and 220 m. The frequency inverter provides an automatic performance regulation up to 22 KW motor power. The wide application range of these top series includes industrial water treatment systems, washing plants and cooling systems. All parts that have contact to the pumped fluid are built by high quality stainless steel. So the pumps are extremely corrosion resistant and reliable.