ACHEMA 2009: Highlights
ACHEMA - the most important trade fair for the chemical and processing industries - took place from May 11 to 15 in Frankfurt, Germany. The online pump magazine impeller.net was there to find out about the most important developments of the pump technology.
Centrifugal Chemical Pumps

ASV Stübbe presents the new thermoplastic centrifugal pump system SHB which is designed to reduce costs and facilitate configuration due to its flexibility and versatility. The SHB is a single-stage, single flow pump in a horizontal spiral casing with axial suction socket. The hydraulics and unit components coming into contact with the media are made of solid, corrosion and wear-resistant plastics. The new SHB series has been specially designed to meet the requirements of environmental and surface technology. The SHB manages flow rates of up to 50 m³/h and heads of up to 42 meters. The new centrifugal pump is available in six sizes from 15-80 to 50-180 with drive ratings of up to 7.5 kW. Due to the consistent thermoplastic design the spiral casing has no metal armoring, which reduces production costs, improves corrosion resistance and offers a considerable economical advantage to the customer.

For delivery of chemical aggressive, hot and contaminated fluids the Rheinhütte Pumps Division of Friatec has developed the vertical centrifugal chemical pump GSVO. As consistent development of its predecessor the GVSN, which has already proven its worth for over 35 years and is mainly used today for pumping sulfuric acids, liquid sulfur, tar and molten salts, the GVSO can be run in completely new application areas. So the aggregates are used for solar thermal power stations, in which molten salts up to 560° C are the medium pumped for the transfer and storage of heat. In sunny regions of the Earth solar thermal power stations represent an important technological option for an environmentally and climate friendly supply of electricity, as they replace fossil fuels and reduce the output of CO2. The type GVSO submersible pumps used in this promising high temperature application are made from high grade stainless steels with a special medium lubricated sleeve bearing concept.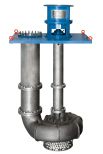 The GVRN vertical centrifugal chemical pumps of Friatec have been especially developed for high delivery rates and efficiencies in pumping hot sulfuric acid. Besides a space and weight saving construction the new GVRN range can be characterized with submersion depths down to 3,400 mm without intermediate bearing and deliveries up to 3600 m³/h. With seven pump sizes these aggregates that provide efficiencies at its optimum above 80% are available up to size 450/500.
ITT ITT shows the multi-stage pumps of its series MBA (horizontal building) and MPB (vertical building). The pumps of ITT Vogel are designed according to a modular construction. With a minimized amount of components a lot of different building variants that correspond to the customer's needs can be provided in an easy, quick and economical way and without customized manufacturing. The whole range of performance is covered with four mechanical sizes that take eight hydraulics. The robust and compact construction, designed for heavy non-stop operation in industrial plants, is especially suitable for water supply and industry applications like snow making systems and delivery of cooling water. Further application fields are boiler and condensate recovery systems as well as osmosis and ultra-filtration.
KSB presents at this year's ACHEMA the new pump series KWPKC-Monobloc that is specially designed for use in secondary circuits of flue gas desulphurization plants. The pump's main applications are to transport limestone slurry and circulating water, to remove gypsum and to thicken solutions. The pump series covers flow rates up to 3.000 cubic meters and discharge heads up to 120 meters. The sturdy design is synonymous with operating reliability and robustness. A back pull-out design has been chosen for the radially split casing to make maintenance quick and easy. An adjustable clearance gap is provided on the suction side to keep the pump's efficiency high. The impellers are made of KSB's highly wear-resistant NORIDUR DAS.
Submersible Pumps
The ETLB-E of ASV Stübbe is a single-stage and dry running safe thermoplastic block sump pump for conveying aggressive fluids containing solid particles. The ETLB-E is suitable for use in chemical plants, water treatment and electroplating, in pressureless containers, open basins or in pump pits. The newly designed, closed impellers with vanes formed according to fluidic principles are manufactured using state-of-the-art injection molding technology. The stainless steel shaft is separated from the fluid by a thick-walled thermoplastic tube; the shaft lead-through is sealed at the mounting plate with lip seals. The two-part pump housing consists of the housing cover and pump housing, which are joined by screw connections.
Sealless Pumps
IWAKI has extended its MDW series. The magnetic-driven centrifugal pumps are now available up to a maximum flow of 300 m³/h and a maximum head of 98 meters. The pumps provide a wide range of application areas, e.g. delivery of hot sulfuric acid in the chemical industry. The enormous robust construction is suitable for hardest requirements and is characterized through its easy maintainability.
The powerful 600 m³/h chemical magnetic drive pump 200-150-315 of the MNK series of Richter Chemie-Technik is entering a performance dimension previously unavailable, opening up new fields of application, above all in the large-scale, single-line or multi-line plants in the basic chemicals industry ("world-scale plants"). This single-stage, sealless chemical centrifugal pump is manufactured of heavy-duty, horizontal design according to EN 22858/ISO 2858/ISO 5199. The pump is rated for operating pressures of up to PN 25 and operating temperatures of between -60° and +150°C. The closed PFA impeller with hydraulically optimized vane channels contributes to the high efficiency and the extremely low NPSHr value. The PTFE housing lining (optionally: PE-UHMW) has a wall thickness of up to 20 mm.
With the RMA Richter Chemie-Technik presents one of the most economical magnetic drive process pumps on the market. RMA pumps are rated for an operating pressure of up to 19 bar and for a temperature range of –29°C to +150°C (-20°F to +300°F). Eight sizes are available with flow rates of 0.1 to 180 m³/h and delivery heads of up to 150 m (490 ft.) at a speed of 3,500 rpm. The RMA is also designed as a close-coupled pump (RMA-B). Both corrosive and pure media can be conveyed with the RMA series: in the chemical and petrochemical industries, in the pharmaceutical and food industries, in the pulp and metal processing sectors as well as in the waste disposal/recycling segments. With an intentionally reduced range of optional extras and additional equipment, the new Richter process pump, RMA, is aimed at light to medium-duty applications. Thanks to its service-friendly design, the good hydraulics and the overall good value for money, the RMA is one of the most economical magnetic drive pumps on the market.
Rotating Positive Displacement Pumps

With the construction of the polyrex® 100 pump Maag Pump Systems underpins the company s leading position in the construction of the largest gear pumps for the polymer processing industry. The polyrex® 100 has been designed for a plant capacity of 100 t/h LDPE in an undivided main stream. Differential pressures of up to 250 bar can be achieved. Due to the outstanding volumetric efficiency of the pump, this pressure is achieved with the smallest possible energy input. The product is conveyed gently and without any loss of quality.

Scherzinger presents the optimized gear pump series 2030, 3030, 4030 and 5030. At the construction the company specially focused on an increased operating safety. For this reason a separate centerpiece between pump cover and casing is not implemented any longer. As the number of seals is reduced the whole tightness is much higher. Instead of traditional PTFE seals FFKM seals are set in the optimized gear pump series. Due to its high chemical resistance and elasticity these seals provide an improved sealant safety.
Pump Monitoring and Controls
The "Allready Box" provided by Allweiler is a new electronic module that continuously monitors a pump's operational state. In the event of operational deviations or disturbances, Allready immediately emits a warning. In urgent cases it triggers an alarm and even has the ability to switch the pump off in hazardous conditions and switch over to a secondary unit. This monitoring device can be mounted on new pumps or retrofitted to existing pumps at any time. Early customers will receive Allready Box, including on-site installation, at a special discounted price.

Screw pumps made by Allweiler are now available with a new opto-electronic module. Known as "Allseal", this new product detects wear of the mechanical seal as soon as it begins and immediately warns the operator of any leaks. The pump can then be automatically switched off and pumping tasks switched over to a secondary unit. "Allseal Technology" is available on Allweiler's vertically installed screw pumps and eliminates unpleasant surprises caused by sudden or gradual leaks. The new monitoring and control system protects the pump from damages, extends its service life, and prevents expensive interruptions of the pumping process. Allseal is also an ideal solution for pump operators who must comply with special environmental regulations or other requirements such as SOLAS directives for flammable and explosive liquids.
The new dry run protection device ProPump of ASV Stübbe offers maximum reliability for pumps and extensive setting possibilities. The sensor unit consists of a Micro-Electro-Mechanical System (MEMS), a combination of mechanical elements, sensors and an electronic circuit on a chip. The pressure in the pipe line system is determined via the piezoresistive silicon chip. A sensor additionally measures the temperature of the medium. The freely adjustable measuring range can be used to activate a control system, for example, in the event of temperature deviations to prevent the process pressure from reaching critical levels.
One of the technological highlights KSB presented at its ACHEMA booth is a monitoring unit developed by joint venture partner Nikkiso. The E-Monitor specially developed for use on canned motors monitors the axial and radial plain bearing status and continuously indicates any changes in the bearings' condition. Provided the bearings are operated properly in continuous mode, they often give reliable service for 8 to 10 years. The monitoring unit allows operators to predict when it is time for the next maintenance round. Costly can and winding damage as well as unplanned downtimes are thus avoided. Service teams benefit greatly from the fact that maintenance becomes plannable.
Richter Chemie-Technik will in future be integrating the pump condition monitoring SAFERUN into its MNK magnetic drive pumps. The system detects changes in the operating condition; an alarm is emitted if these changes have an impact on the admissible operating range of the pump. In this way, the operator is in a position to always operate the pump in the admissible range and therefore safely. SAFERUN continuously records the torque on the magnetic drive of the pump and compares the actual value with reference values. Higher or lower values are indicated by coloured LEDs in the housing cover. SAFERUN stores all results in a memory; the operator can read out the data via the radio interface using an (optional) handheld unit equipped for this purpose. Additional information can be passed on to a master control system via the HART protocol integrated into the system.