Achema 2015: Highlights
This year's Achema at the exhibition center in Frankfurt was with 166.400 visitors and 3800 exhibitors a full success. A wide range of innovations and debuts in the areas chemistry, pharmaceuticals and the food industry were introduced. We would like to highlight some of these products to you in this article.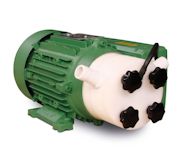 Zuwa introduced a new synthetic pump. Fluids with higher viscosities or acids, solvents, bases or other process fluids can be pumped. This pump is capable of dry self-priming from a depth of 3 meters, depending on the fluid the pump head is up to 30 meters. Presently the pump can be equipped with 220-400 V motors with 50 or 60 Hz, working at 1400 to 2800 rpm. An optional, effective dry run protection keeps the pumps from running hot in case supply of fluid is interrupted.
The multilevel self-priming centrifugal pump KSP from Schmalenberger now also covers the upper hydraulic power range up to 10 bar delivery pressure and smaller flow rates 20-160 l / min. Schmalenberger achieves this by combining different pump hydraulics and through the multilevel design within an aggregate. The pump is also suitable for usage in the field of filter units and the coolant handling. In addition there is a new docking module, which can be installed with standard motors of all international manufacturers.
Busch presented the dry screw vacuum pumps Cobra and the Dolphin liquid ring vacuum pumps. The Cobra NC 2000 B is the world s largest screw vacuum pump and has a suction capacity up to 2600 cubic meters per hour. In combination with the Panda Roots pumps, Cobra can operate with completely dry operating vacuum systems. When working with the Dolphin LM / LT one can do without a base frame due to the modular design with directly flanged IE3 standard motor. There are a total of 19 compact sizes emerged in single and two-stage design, which are able to reach a maximum pressure of 130 mbar and 33 mbar. They can be adapted to any process and any liquid.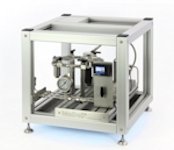 HNP presented a modular metering dosage system (Modos) that can be custom fitted on a modular basis. Heart of the system is a micro annular gear pump, depending on customer requirements pumps of the hermetically inert series or high performance series are used. Other modules include among others filters, sensors and flow meters. The rapid mass flow control ensures high process stability and constant airflow of 1 ul / h to 1152 ml / min.
The new pneumatic double diaphragm pumps Mercury from Argal are made of fiberglass (FRP) and with the sizes of 3 "and 4", they are capable to deliver performance of 1100 and 1300 l/min. Maximum chemical and mechanical resistance are obtained by deploying composite materials made of vinyl ester resins reinforced with long strand only glass fibers molded with RTM technique. The pump is resistant to low and high pressure from -30°C to + 110°C.
Beinlich's Vsico.pump has been designed for precise dosing of fluids and pastes and is especially suitable for abrasive media and for dosing and dispensing proportional to speed. Accuracy and repeatability is ± 1%. The technology of the newly developed pump is based on the volumetric principle of an endless (infinite) piston whereas the core components rotor and stator form a perfectly sealed metering chamber. The eccentric movement of the rotor allows for a low-shear motion of the medium from one chamber to the next chamber without squeezing the media. The metering chamber is optimally designed for dispensing fluids and pastes filled containing fillers.
Oerlikon ensures process reliability with Remote Monitoring. Increased wear on the pump is detected as well as influencing process conditions, such as deposit formation or particle entry. Maintenance measures can be initiated when the state of the pump actually requires intervention. Run times are maximized and maintenance staff can be deployed more efficiently. The condition-based maintenance conducts maintenance measures only when triggered by actual wear. The monitoring solution enables not only the display of trend curves, critical states, and the storage of historical data, but also the calculation of cumulated consumption values. Necessary maintenance work can be displayed on a maintenance plan panel, offering a related maintenance manual while showing the required tools and necessary spare parts.
Prominent developed a new metering pump for metering between 2 l/h and 45 l/h at a back pressure of 25 bar to 2 bar. It is the first metering pump in its class to be driven by a cleverly controlled solenoid, detects varying pressure levels and automatically adjusts its metering behavior to the prevailing conditions. Automatic bleeding optimizes the metering result when metering is affected by gas bubbles produced by gaseous media. The intelligent control technology works fully automatically to ensure a fault-free metering process.
Richter introduced three new products, one of them is the PFA-lined magnetic drive pumps RMI and RMA series. The new RMA 6x4x10" according to ASME / ANSI now covers a range up to 300 m³/h with heads up to 33 m. Users of ISO pumps will benefit from the new pump size RMI 80-65-160 which covers the popular range up to 95 m³/h and 35 m head very efficiently. The pump monitoring system Saferun is an innovative system for continuous monitoring of magnetic pumps. With sophisticated sensors that are strategically placed between the CFR and the PTFE/PFA critical operating data is being collected and analyzed. The sensors are shielded from the medium in the process to ensure that there is absolute no contact and therefore no interference with the process. The new Safeseal´s core component is a new dynamic 'lip seal' from modified PTFE. This chemically resistant radial seal has been implemented into the MNK series and is available for all sizes starting from 25-25-125 and has already proven itself in practice.
Ham-Let introduced Valves and Fittings. H-99 Severe Service Needle Valves can accommodate for high pressure demands, have high temperature endurance and are suitable for a wide range of applications such as: Refineries, Power-energy, Hydrotreater and Hydrocracker systems. These all-new valves are a combination of 8 different valve series encompassing the benefits of each thus creating one advanced series. They come as standard with: Panel mounting, Stem Seals below Stem Threads, Stem Diffusion Surfaces and Packing Bolts. Double Ferrule Compression Fittings are silver plated in order to prevent galling between the nut and the tubing in fluid and gas delivery systems.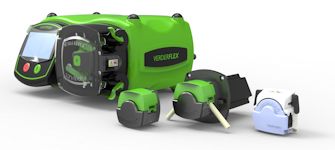 Verderflex developed several new products - one of them is the new Vantage 5000 cased tube pump which is designed to offer dosing accuracy at high discharge pressures exceeding 7 bar (100 psi). Key features of this dosing pump include, 12 bit digital high resolution, 4000:1 turn down ratio, touch screen, Wi-Fi connectivity, ethernet, profinet, profibus, modbus remote signaling, monitoring and control functionality options. The new peristaltic pump range Steptronic is designed to operate as either a panel mounted or "stand alone" OEM cased unit. The Steptronic features an accurate, high resolution, integrated stepper drive which is suitable for continuous duty and critical "multi-cycle" OEM applications. Another new pump is the new Dura 55. Key features of the pump include stalled rotor protection and a patented easy change hose connection. The Hi-Clean diaphragm series of pumps consist of food grade and food safe polished diaphragm pumps, according to EC 1935/2004 & FDA and 3A.
Flowserve launched the SIHI KPHX Liquid Ring Compressor capable of pressures up to 12 bar. The KPHX also features low noise levels and reduced vibration running. Locating the bearings and mechanical seals outside the pump enables the pump to operate with higher reliability while reducing the need for maintenance. The KPHX design has two impellers and uses three-stage compression. The first impeller is divided into two single-flow chambers enabling the impeller cell volume to adjust to the required compression ratio. The vanes are curved for optimum energy transfer and have been designed with an increased hub diameter. The bearing clearance is reduced to a minimum to prevent shafts bending under any operating conditions. Flowserve also has expanded its line of Durco Mark 3 ISO chemical process pumps with a range of higher-pressure variants. By the use of 3-D modeling and finite element analysis, the pressure rating of the pump is increased up to 25 and zirconium bar, dependent on material and temperature, with minimal increase in weight. In addition to the casing, all other pressure-containing parts are also rated up to 25 bar. The pumps are available in a wide range of materials, including carbon steel, stainless steel, and reactive alloys such as titanium.
Grundfos presented the high-end Grundfos DDA dosing pump which communicates with the industrially relevant fieldbus systems. These special pumps dose outgassing media, as well as small quantities down to a minimum of 2.5 ml/h. The pump operation can be ensured with the also introduced Intelligent monitoring which collects and analyses real-time data via SCADA technology. Grundfos offers the CIM (Communication Interface Module). These cards are inserted directly in the drive of the pump, and as CIU (Communication Interface Unit) in an external box with integrated 24-240 volts AC/DC power supply. Introduced got also the new Direct Sensors. The 2-in-1 sensors detect the flow rate, the pressure or the differential pressure and at the same time generate a temperature signal. What is so interesting: Through the simultaneous measurement of the temperature, their influence on the pressure measurement can be corrected directly. The measurement signals are calibrated and processed by means of a microprocessor, which are then available as an analogue or digital signal for a control or a SPS.