ABS Announces the Next Generation of MF 354 – 804 and Piranha 08 Pumps
ABS is pleased to announce the introduction of the next generation of MF 354 – 804, and PIRANHA 08 pumps. ABS submersible pumps of the MF 354 – 804 ( incl VO models) , MF 565 – 665 and PIRANHA 08 series, have been re-developed to offer improved benefits to the customers of greater performance, reliability and effectiveness in application.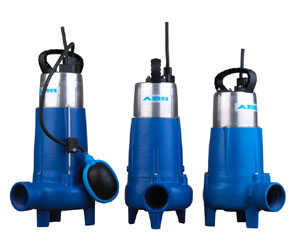 MF Typenreihe (Quelle: ABS Pumpen)
The new models, of the MF 354 – 804, (incorporating the VO versions), MF 565 – 665, and PIRANHA 08, all share a new compact design, which means, smaller sump requirement and shorter installation time.
The MF series have been designed for the economical and reliable de-watering of buildings and sites, and also pumping effluent from locations below the backwash level. In addition the pumps are ideal for emptying containers of every type, use in septic tanks, emptying of flooded cellers, pumping of rainwater and drainage applications. For use on building sites selected models are available as a VO-version, with screen and hose connections.
The PIRANHA 08 has the same new design features as already described, and incorporates the well proven Piranha cutting system. The pump is therefore ideally suited for the pumping of domestic sewage, and for applictions where the static lift is high, and the pumping of sewage over undulating terrain.
For further information, please contact Market Communications Coordinator, Sandra Forte, phone +353 53 63209, or e-mail sandra.forte@abspumps.com