Xylem Opens New Innovation Center in Italy to Accelerate the Development of Next-Generation Pumping Technologies for Residential and Commercial Buildings
Xylem has announced the opening of a cutting-edge innovation center in northern Italy, which focuses on advancing next-generation pumping technologies for the residential and commercial building services sector.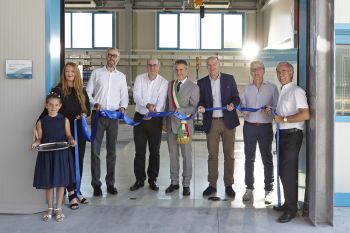 Xylem
Located in the town of Montecchio Maggiore in the province of Vicenza, and representing a multi-million euro investment, the new Xylem Innovation Center is specifically designed to further understanding of how system efficiency can be optimized by analyzing a pump's connectivity with a building control system.
As the European Union (EU) seeks to become the most climate-friendly region in the world, new regulations are placing ever-stricter demands on the environmental design of products. With 45 percent of EU energy demand being consumed in buildings, and 50 percent of that used in commercial buildings, the construction market has been identified as a core driver in improving energy efficiency. Specifically, the EU's ErP (Energy-related Products) Directive requires new levels of efficiency from commercial building equipment, including motors, pumps and HVAC circulators; similar standards are set to follow in North America.
Commenting on the Xylem Innovation Center opening, Amedeo Valente, Director of Innovation and Technology with Xylem's Applied Water Systems business said, "At Xylem, we are investing more than ever before in R&D, with a strategy that is rooted in a deep understanding of customer needs and underpinned by a legacy in innovation dating back over 150 years. The opening of this innovation center marks an important milestone in our R&D journey. As green buildings become the rule rather than the exception, it is crucial to help our customers understand the environmental and economic benefits of ensuring entire systems are highly efficient, and not just individual components."
"For a building to be truly green, components need to be able to communicate with each other so that adjustments can be made in real-time to deliver maximum efficiency. Our ambition is to drive even greater interconnectivity across systems, enhancing energy efficiency, further reducing the life-cycle costs of our products and ultimately, delivering cost-savings for customers. The deployment of Internet of Things (IoT) technologies – connecting pump components through IoT to turn traditional pumps into smart pumps - is expected to increase operational efficiency by nearly 45 percent and widen application scope*. We are committed to leading this evolution."
The opening of the Xylem Innovation Center builds on Xylem's existing research capabilities, led by globally-renowned R&D centers in Sweden, Germany and Italy. The new center will enable Xylem to bring new market-leading technologies to customers, such as its Lowara Smart Pump range – equipped with ultra-premium efficiency IE5 motors and built-in control to achieve optimal performance in water supply and HVAC applications for residential and commercial buildings. The IE5 motor delivers the highest level of performance, exceeding current IE3 legislative requirements.
"At the Xylem Innovation Center, we have established an expert team to develop, test and validate the next generation of high-efficiency, highly-automated and highly-integrated pumping technologies. We look forward to continuing to set the benchmark for the industry with new product innovations, which address customers' greatest pain points and support the global green buildings agenda," concluded Mr. Valente.