Xylem Launches new Godwin S Series
Xylem has launched the latest in its series of smart pumps under its renowned Godwin brand at Bauma 2019. The new Godwin CD150S Dri-Prime dewatering pump, part of Godwin's renowned S Series, has been specifically designed to combat the toughest mining and construction applications, allowing customers across Europe to dig deeper and build bigger.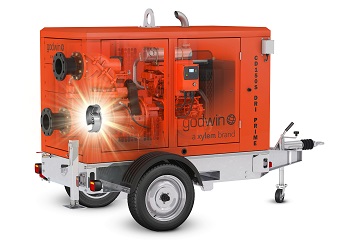 Godwin CD150S (Image: Xylem
The Godwin CD150S offers greater flexibility due to its interchangeable impeller – dramatically expanding the application range of the pump and providing customers with "2 pumps in 1". The CD impeller can now be exchanged with Flygt N-Technology non-clog impeller, providing customers with the flexibility to tackle stringy, modern wastewater applications with the same pump.
Also, the pump system has been entirely redesigned with improved hydraulic efficiency, greater fuel economy, and streamlined serviceability to deliver more than:
15 percent improved fuel economy
40 percent less service time
20 percent greater uptime
The pump's compressor belt tensioner reduces the time taken to change and adjust the belt to approximately 30 minutes, and the addition of a new sight glass allows operators to accurately monitor the level and quality of the pump's mechanical seal oil. This new and improved design improves service efficiency and cuts overall service time by 40 percent.
Kevin Snow, Godwin Global Product Manager, said, "With the launch of the Godwin CD150S, we have redefined toughness for the construction and mining industries. The interchangeable impellers of the Godwin CD150S will allow customers to tackle a full range of solids handling applications, while Xylem's new generation of FST gives customers total control of the pump from anywhere in the world.
"The CD150S is also compliant with EU Stage 5 emissions standards, offering customers a more sustainable solution to complex water challenges. The new Godwin CD150S is also available to rent from various locations across our European rental network. With the new Godwin CD150S, tough is now smart, tough is flexible, tough is sustainable, and tough is on-demand".
The new CD150S is the latest smart pump to be unveiled under the Godwin S Series – the smart solution for water that offers unmatched control and peace of mind anytime, anywhere. Designed with advanced levels of monitoring and control, efficiency and reliability, the CD150S can also be equipped with a new-generation of Field Smart Technology (FST), Xylem's first-in-industry Cloud-based telematics platform that enables the Internet of Things (IoT) across the entire Godwin S series. Using cellular, satellite and GPS technology, customers can track, monitor and control the pump in real-time from any smartphone, tablet or desktop computer, anywhere in the world.
Xylem also offers a variety of FST subscription plans to suit customer needs, and users can contact a customer service representative at Xylem's Network Operation Centre from anywhere in the world, at any time of the day or night. In addition, the new-generation FST system is smart enough to alert operators by phone if a problem arises – eliminating the need for an additional telephone alarm box. This new, smart technology increases pump uptime by up to 20 percent and ensures field equipment and labour resources are utilized efficiently.
Building on its commitment to offer more sustainable environmentally friendly products, the new Godwin CD150S, like all smart pumps under Godwin's S Series, comes equipped with EU Stage 5 engines that provide a 90 percent reduction in particulate emissions.
Jim Mowbray International General Manager, Xylem Dewatering said, "The CD150S is set to revolutionise the way contractors approach complex construction and mining applications. The flexibility of the interchangeable impeller allows the customer to dewater construction and mining sites that have large solids, before switching to a Flygt impeller to handle more fibrous waste materials. The customer has the option to switch back and forth, depending on the application, and ultimately saves time and resources that can prove costly over time. Godwin Dri-Prime pumps have a reputation for reliability, and now, with the introduction of CD150S, flexibility can be added to its arsenal"
The new Godwin CD150S is now available to purchase or rent globally.