Worldwide Largest Agitator Seal Delivered to China
For a major project, EagleBurgmann delivered currently the largest agitator seal (480mm shaft size) for use in a new PTA(Pure Terephthalic Acid) Plant in China. The order received from SPX Flow Technology included 13 agitator seals and supply systems.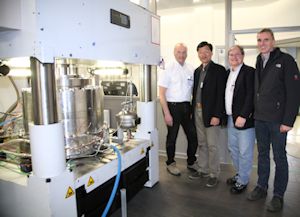 The dimensions and weight of the 1,500 kg mechanical seal presented new challenges to the agitator OEM and the engineers in Assembly and Trials. The agitator has a top entry drive capacity of 2,800 kW and weighs 84 tons, with the gear weighing around 20 tons.
After a construction and production time of merely 20 weeks, the agitator seal was tested in the presence of representatives from the agitator OEM and Enduser customers at the modern EagleBurgmann agitator test facility equipped with sophisticated control and instrumentation technology as well as accurate measured data acquisition. The seal was operated with a rotational speed of 58 revolutions per minutes. The cooling flange was heated to 80°C to simulate the heat transferred by the product. "The seal exhibited no abnormalities during the test run. All measured temperatures remained in the green ," said EagleBurgmann s Sales Engineer Peter Totzauer. The test run ended after an operating time of 100 hours. After a cooling down phase, the seal was dismantled in the presence of inspectors so that they could jointly examine the sliding surfaces and other components. All of the participants and the construction, research and development specialists confirmed that the test run had been more than successful and that there would be no obstacles to a smooth and continuous permanent operation. The operator of the plant expects a two-year operating period without interruptions. Continuous availability of the seal is an absolutely vital criterion because it is deployed in the crystallizer, which is the heart of the system.
PTA is a pre-product of polyester that is used in great amounts to manufacture textiles (90%) and PET bottles. The continually increasing need for PTA demands ever greater capacities.
An overview of the features:
Shaft diameter 480 mm
Double seal for the medium pressure range
Hydraulically balanced
For top entry drive
Bi-directional
Ready for assembly cartridge type
Integrated radial bearings
Self-closing on the product side
Integrated cooling flange and cooled housing
Metallic materials in titanium executed on the product side
Materials
Rotating seal faces: Carbon graphite
Stationary seats: Silicon carbide
Secondary seals of perfluorocarbon rubber (K) and fluorocarbon rubber (V)
Picture: Satisfied expressions – No objections after the 100-hour test run: from left to right: Paul Holbeach, Area Sales Manager Midlands, EagleBurgmann UK; Seo Soo Kyo, Area Construction Manager from China ; Robert .A. Blakley, Principal Design Engineer, SPX Flow Technology, Rochester, USA; Peter Totzauer, Manager Business Sector Chemicals, Pharmaceuticals, Water, EagleBurgmann Germany.