Wellness at the French Mediterranean Coast Thanks to ASV Pumps
Balaruc les Bains is located approximately 28 km south-west of Montpelier at the Étang de Thau, a lagoon lake in southern France. The saltwater baths of Balaruc, with temperatures of 34°C to 40°C and a high calcium and magnesium content, have been renowned since ancient times.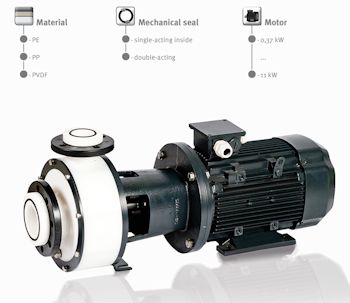 SHB close-coupled pump (Image: ASV Stübbe)
They are the reason that Balaruc les Bains is the second most important spa town in France and the most important in the region of Languedoc-Roussillion.
Operation of the spa, with its emphasis on rheumatology and phlebology, is an important economic factor for the town of roughly 7,000 inhabitants. For this reason, construction of a new thermal bath was already decided in 2009. With an investment volume of almost € 60 million, the new thermal bath will replace two obsolete baths and increase the appeal of the region even more.
The spa s operators expect 48,000 spa guests to use the new installation every year. This will generate work for 254 permanent employees, another 100 seasonal employees and approx. 1,000 indirect jobs in the related catering and tourism industry.
The thermal bath itself comprises an area of approx. 16,000 m² and stretches across 5 floors. More than 60 ASV Stübbe pumps will be installed in the new engineering rooms to supply the basins with thermal brine water. Proven quality "Made in Germany" and the appealing value for money were the most important reasons for the spa operator s decision. In addition to standard pumps from the NM and NMB ranges, over 40 pumps from the SHB range will be used.
The SHB close-coupled pump is comprised of a thick-walled thermoplastic hydraulic system and is connected to standard motors of up to 11 kW by means of a strong clamp coupling. This combination achieves a short installation length, which is somewhat offset by the generously dimensioned lantern, and has the advantage that there is sufficient space for different mechanical seal and seal chamber systems. Altogether, the SHB remains compact and can be offered at a very high value for money due to the use of standard motors. The wide range of materials and mechanical seal variations offered opens up diverse possibilities for use in various chemical applications and in water treatment.