Water Jet Cutting Machine Cuts Virtually Any Material
Jet Edge's 5'X5' Mid Rail Gantry Waterjet System is an ideal water jet cutting solution for shops that cut smaller material or have limited floor space available for machine tools.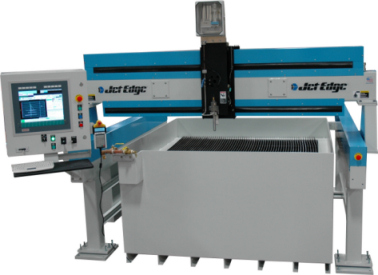 Jet Edge Mid Rail Gantry water jet system
Powered by a 60,000 psi or 90,000 psi Jet Edge waterjet intensifier pump (available in 30-200hp models), the 5'X5' water jet cutting machine features an exposed 72"X72" tank that easily accommodates overhead loading. It is designed to cut virtually any material up to 60"X60". If equipped with an optional second cutting head, it can cut two parts up to 30"X60". Optional mirroring cuts part cycle time in half.
The Jet Edge Mid Rail Gantry water jet system utilizes an industrial PC controller and can be configured so that all three axes are fully programmable (Z optional). It also features direct-couple AC brushless digital servo motors and single or double carriages. Critical bearing components are protected with heavy metal covers with brush seals. The Mid Rail Gantry waterjet system also is available in 8'x5', and 21'x5', 8'X13' and 21'X13' and 5'x13' work envelopes.