Ueli Thuerig New Vice President of Maag Pump Systems Textron
Maag Pump Systems Textron, the Polymer Systems (PS) segment of Textron Fluid and Power, and well known for polymer gear pumps, screen changers, and filtrations systems, has announced the promotion of Mr. Ueli Thuerig to vice president and general manager.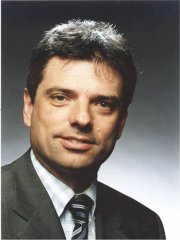 Maag Pump Systems Textron is the global leader in polymer process gear pumps and systems for the polymer and chemical industries.
Thuerig assumed his new position late March when Dr. Frank Brinken, former president and CEO of Maag Pump Systems Textron, decided that he wanted to pursue other career opportunities outside of the Textron family. In Mr. Thuerig's new capacity, he will be responsible for growing and supporting the polymer systems' markets and operations worldwide.
"I am very excited about the opportunities for Maag Pump Systems Textron's growth," said Thuerig. "The design and quality of Maag Pump Systems Textron's products is world renowned within its core markets. I expect to further solidify this position with compliments of technical and customer service support. Going forward I look to leverage Maag Pump Systems Textron's core competencies to new markets and opportunities within the fluid and power industries."
Ueli Thuerig complemented his technical education with an MBA from the University of St. Gallen in Switzerland. Recently, Thuerig had global responsibility for all of Maag's manufacturing and logistics operations. Thuerig started his career with Maag in 1990 and has held since then roles of increasing responsibility.
Maag Pump Systems Textron, part of Textron's Fluid and Power group, is the world leader and manufacturer of gear pumps, screen changers, and large area filtration systems for the polymer, extrusion, chemical, and petrochemical industries worldwide. More information is available at www.maag.com
Textron Inc. (NYSE: TXT) is an $11 billion multi-industry company with 44,000 employees in 40 countries. The company leverages its global network of businesses to provide customers with innovative solutions and services in industries such as aircraft, fastening systems, industrial products and components and finance. Textron is known around the world for its powerful brands such as Bell Helicopter, Cessna Aircraft, Kautex, Lycoming, E-Z-GO and Greenlee, among others. More information is available at www.textron.com