The Big Specialist for Small Quantities – Gemü 567 BioStar Control
The Gemü 567 BioStar control valve is the new, safe solution for media controls from 0.08 to 4.1 m³/h.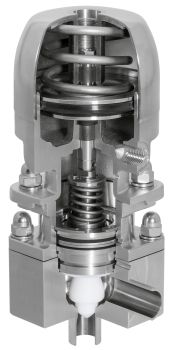 The big specialist for small quantities - Gemü 567 BioStar control (Image: Gemü Gebr. Müller Apparatebau GmbH & Co. KG)
The sealing takes place via a PTFE diaphragm with PD technology (plug diaphragm), which combines the advantages of a diaphragm valve with those of a globe valve. This valve is available with linear control characteristics and with equal-percentage control characteristics.
Aseptic diaphragm valves are frequently used as control valves for sterile applications. This means that small volumes can only be controlled with an inadequate level of accuracy, or not at all. The new 2/2-way diaphragm globe valve with regulating needle or regulating cone fills these gaps. The actuator is sealed by an FDA-compliant and USP Class VI compliant PTFE diaphragm. In combination with a spring washer, this ensures that the seal is permanently temperature-resistant, meaning that the diaphragm need not be re-tightened. In comparison with bellows valves, cleaning the valve is significantly improved by the hygienic construction.
Further special features include the optional integration of a bypass function and the potential installation of the diaphragm globe valve in a multi-port valve block (Gemü M-block). In the bypass version, the angle valve body can be designed with a manually operated bypass or with a pneumatically operated bypass. Both versions allow for easier cleaning and greater flows.
If the Gemü 567 BioStar control is integrated into an M-block®, several functions can be implemented in the smallest of spaces. In addition, the space requirement is reduced considerably, and the installation and welding effort are reduced.
The valve is also optimally equipped when it comes to hygienic safety: It meets both the standards of the EHEDG cleaning test and the standards in accordance with the American 3A definition.
The control valve is used, for example, for dosing small quantities in the beverage industry for in-line mixers (for example, for vitamins, dyes and other additives), for controlling sterile steam and air (for example, for DIP processes) or for controlling the inflow and outflow of bioreactors in the pharmaceutical industry
The Gemü 567 BioStar control is available in the nominal sizes DN 8 to DN 20. The body is manufactured, as standard, from block material with a grade of surface finish of Ra 0.4 µm. In addition to the PTFE diaphragm, another seal made from FKM is used. One exception here is the 3A version, for which the complete sealing and control element consists of one piece or material (PTFE).