Swiss Hydropower Plant Rüchlig Will Continue to Supply Electricity for the Next 59 Years
Technology Group Voith has successfully completed the refurbishment of the Swiss run-of-river hydropower plant at Rüchlig, Aarau. In mid-June 2015, Switzerland's state-owned energy group Axpo and Voith joined with other suppliers to celebrate the plant's official opening following a construction phase of around three and a half years.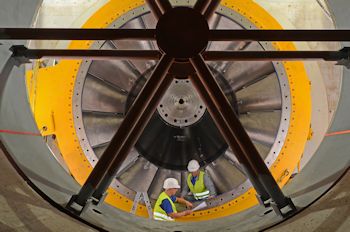 The distributor of a turbine in Rüchlig is 5 meters in diameter (Image: Voith)
With its new capacity of 11 MW, the modernized power plant on the Aare river will be capable of generating approximately 64 GWh/year to provide around 17,000 households with clean, eco-friendly power.
"As a result of the upgrades we have increased the capacity of the existing bulb turbines by more than 25 percent, primarily due to the significantly higher water flow through the turbines. The total output of the power plant could therefore be increased by around 10 percent," says Rolf Geissberger, Axpo's project manager responsible for the plant's electromechanical systems. In the main powerhouse at the Swiss facility, Voith modernized the electromechanical equipment of the existing three Kaplan bulb turbines and built a new, structurally identical power unit. The company also supplied the gear units, generators, turbine governors and a specially developed cooling water system. The three existing vertical power units were eliminated as a result of installing two additional flood relieve gates. "Despite a tight schedule and restricted working times due to noise emission constraints, we were able to connect the last machine to the grid one month earlier than planned," adds Markus Göttken, Project Manager from Voith Hydro Heidenheim.
As well as improved flood control, the Rüchlig run-of-river hydropower plant also meets stringent environmental standards following the upgrade. For example, Voith installed fish-friendly turbines, designed to enable fish to pass through them easily and to also improve water quality. "The Rüchlig hydropower plant is a great example of how economic and ecological interests can be reconciled," concludes Markus Göttken.
The run-of-river hydropower facility at Rüchlig has been in existence since the 1920s. Following expiry of the concession in 2011, its current operator Axpo decided to undertake a comprehensive upgrade. As a result of the modernization, the plant is now licensed for electricity production until the end of 2074 and is a good example of sustainable, eco-friendly and cost-efficient energy production from hydropower.