Sulzer Pumps Opens a New Service Center in Sweden
Sulzer Pumps has opened a new service center in Vadstena, Sweden for configured pumps and agitators serving the Pulp & Paper, Power, General Industry and Chemical Processing Industry markets. With this new service facility, Sulzer is well positioned to serve customers in Sweden and the Nordic countries.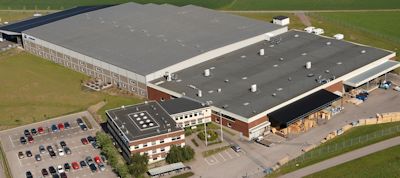 Sulzer Pumps opens new service center in Vadstena, Sweden adjacent to its existing pump- and agitator manufacturing site (Image: Sulzer)
The new service center is adjacent to its existing state-of-the art pump and agitator manufacturing site offering accessibility to advanced machinery, test facilities and experienced workforce. Its close proximity to the manufacturing site provides quick access to spare parts and testing capabilities. The facility offers a wide range of services in maintenance support, diagnostics and consulting services, as well as technical and economical optimizations.
The fully equipped workshop performs repairs, refurbishments and advanced services for centrifugal pumps and agitators, both for the Sulzer range as well as other Original Equipment Manufacturers (OEM).
Through our services performed on pumps and agitators, customers will benefit from energy efficiency, optimized production output, cost savings and extended maintenance cycles. Service agreements like inventory management, exchange unit services and other long term service contracts are part of its expertise. It has an emergency coverage to provide customers with prompt, round-the-clock response.