SPX Tank Side Entry Mixers Designed for Efficiency, Performance and Safety
SPX Plenty side entry mixers have proven reliability and durability in heavy duty tank storage applications for everything from homogenization of clean fluids to crude oil bottom sludge and water (BS&W) control. They are designed for high performance to maximize process efficiency as well as to reduce overall operating costs.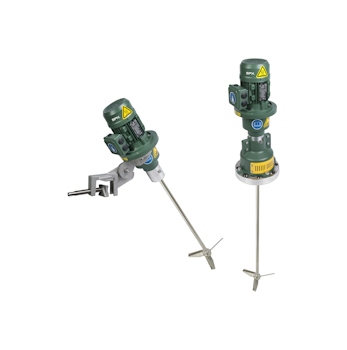 Lightnin iSeries (Image: SPX)
SPX Plenty mixers have high performance impellers that produce significant amounts of pumping and thrust with minimized power draw for efficient operation. Their solid, one-piece design helps improve reliability and avoids cavitation effects. The mixers are designed to be easily maintained with bearings that have been specifically engineered to maximize bearing Lightnin Series 10 Mixer life.
The efficiency of plant maintenance is further optimized as all Plenty side entry mixers are fitted with a unique, wear-resistant tank shut-off device to allow shaft, seal and bearings to be changed under full tank conditions. This device incorporates wear and corrosion resistant tapered metal to metal faces that are positively clamped by a bolted flange which both seals products in the tank and securely supports the shaft during bearing and/or shaft seal changes. The shut-off mechanism further incorporates a safety check valve to ensure complete shut-off is achieved before any wear parts are removed. No flexible 'O' rings or gaskets which deform, wear, or perish are included in the mechanism, which is machined into the one piece shaft as a single component instead of being welded on; so operators are kept safe and the plant secure.
Plenty mixers are available for a wide range of duties and include swivel and fixed angle models as well as belt and gear drive options. For economical and efficient BS&W control, SPX recommends swivel angle mixers. The angle can be either manually or automatically adjusted. The flow is directed to all areas of the tank floor to ensure no sludge build up or blockage around the tank outlet. A full range of fixed angle mixers are also available for effective operation in clean applications where blending, homogenization or heat transfer is required.
The Plenty mixer range comes in a wide variety of sizes and options to meet many application needs as standard. SPX also has expert engineering capability to design and deliver customized units or complete mixing packages to meet specific customer requirements.
Through its Plenty brand, SPX has a long history in serving the oil, gas and petrochemical industries with advanced mixers to keep storage and blending tanks operating efficiently; designed with a clear understanding of legislative requirements.
The reliability, performance and assured safety Plenty mixers provide, set the standard for this type of technology in the industry and provide customers the best for their process and budget.