SPX Flow Announces New F&B Channel Partner in Egypt
SPX Flow has announced the appointment of Petroconsult as a new channel partner for its Food & Beverage and hygienic application business in Egypt.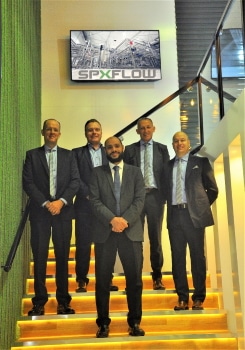 Image source: SPX Flow
With its headquarters in Cairo, Petroconsult already supports the SPX Flow ClydeUnion Pumps, Bran+Luebbe and Johnson Pump brands across the oil, gas and petrochemical sector in the region.
This new agreement will see additional support from a new subsidiary of Petroconsult for Anhydro, APV, Gerstenberg Schröder, Seital Separation and Waukesha Cherry-Burrell brands.
Tom Cork, Channel Manager at SPX Flow, said: "This new partnership will offer tremendous benefits to our customers in the Dairy, Food & Beverage and other hygienic processing industries in the region with enhanced local support and rapid spares deliveries. Petroconsult has a strong presence in Egypt, with multiple warehouse facilities. It will hold local stock of many common parts and components as well as acting as a distributor for APV, Seital Separation and WCB product lines."
Petroconsult is a well-established, privately owned business with 40 years of experience. Its warehouse facilities are located in the free trade zone in Alexandria, enabling the company to serve a wider region, including Jordan and Libya, without additional import/export duties.
Hazem Elleithy, CEO at Petroconsult, said: "This is an exciting diversification for our business. We already have a long and successful relationship with SPX Flow for its process pumps and have the logistical network in place to serve the sanitary business sectors with the additional product ranges. Alongside rapid delivery of products and components, we will be developing a service network into 2020 to support SPX Flow customers across Egypt."
The new Petroconsult partnership with SPX Flow will operate alongside existing sales agents in the Middle East, notably CT Group of Egypt. Customers will ultimately benefit from increased responsiveness to their needs and local, professional support for their systems from a well-respected company with a proven track record in sales and service support.
Tom Cork concluded: "This is an exciting partnership for SPX Flow and part of our continued program to enhance customer experiences and add to the responsiveness of our sales and service network. We are very much looking forward to working with Petroconsult to the benefit of both our companies and the customers we serve."