Sewage Pump Range Expands with New 12-inch BA300KS
BBA Pumps announces the introduction of its new BA300KS mobile sewage pump. The new pump will be a great addition to the already popular KS screw channel impeller pumps.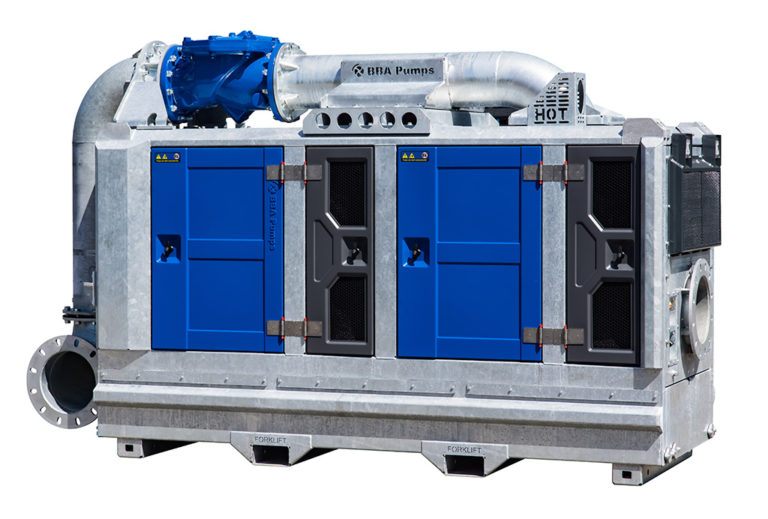 BA300KS D388 sewage pump (Image source: BBA Pumps BV)
This 12-inch unit has been developed for work in large sewage systems in densely populated areas. With a pump capacity of 1100 m³/hour and a solids handling of 130 mm, you can say that this is a real waste warrior.
KS screw channel impeller for raw sewage
Two years ago BBA Pumps introduced the new range of mobile sewage pumps. The key to the new design was the special KS screw channel impeller. This allows you to effortlessly pump liquids with large dirt particles and long-fibrous materials. BBA started off with the BA150KS and BA180KS, 6-inch and 8-inch pumpsets respectively. Meanwhile, many mobile sewage pumps are now in operation worldwide and the users are asking for extra pumping capacity.
Exceeding expectations
BBA Pumps likes to exceed expectations. For this reason, the free passage is increased and the pump efficiency is higher than the existing KS pumps. The diesel driven BA300KS D388 is combined with an economical and environmentally friendly stage V engine. The sound attenuated canopy is quiet, robust and has an outstanding finish. Below are the most important pump features:
Pump capacity to 1100 m³/hour
Maximum pump head 33 mwc
Vacuum system 100 m³/hour
Pump effeciency BEP 80%
Connection flanges DN300
Solids handling Ø 130 mm
BBA Pumps warranty 4 years
Three different impeller diameters for the electric models
For the electrically driven BA300KS, BBA Pumps has developed three different impeller diameters. All three come with the same large free passage and are interchangeable. The largest diameter D388* is used for the diesel-driven pumpset. This pump impeller is a perfect match for the power range of the standard diesel engine. The other two available screw channel impellers are the D328 and D355. This increases BBA's flexibility for assembling electric sewage pumps.
Whitepaper – mobile sewage pumps
In BBA's whitepaper about mobile sewage pumps you can read information about the unique properties of different pump impellers, a practical example of a temporary sewage pump installation and more about the challenges of working with waste water.