Save Space and Energy with the New Atlas Copco ZS 4 VSD+ Oil-Free Rotary Screw Blower
Atlas Copco has unveiled its new generation of oil-free low pressure rotary screw ZS 4 VSD + blowers, which are equipped with integrated permanent magnet (iPM) motors. This, along with other design developments, contributes to them being the most energy-efficient blowers available in the market.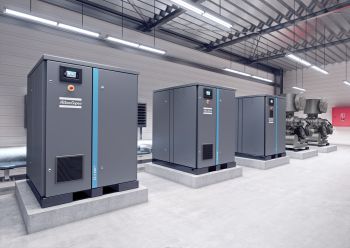 Atlas Copco
"We deliver 30 per cent more flow with the new generation of ZS 4 VSD+ blowers compared to the current ZS VSD models," explains Mark Ranger, Business Line Manager of Atlas Copco's Oil-Free Air division in the UK. "On top of that, the footprint of the models has decreased by 50 per cent, meaning they can fit in any existing blower room."
In food, non-woven textile and wastewater treatment plant applications air demand is often variable. For this reason, the new ZS blowers include a fully integrated Neos VSD inverter that automatically adjusts and optimises the air flow to meet demand. In tandem with this, the iPM motor ensures the blower's performance is energy-efficient, even when it is running at partial load. The iPM motor has been designed and made in Belgium by Airtec, a division within Atlas Copco's Compressor Technique business area.
The ZS 4 VSD+ blowers underwent a number of innovative design developments to ensure they are highly reliable and energy-efficient. For instance, the oil pump is now integrated into the oil-free screw blower element. This means whenever the element is running oil is being pumped around. As a result, the oil has a cooling effect on the element and increases its energy efficiency. To further enhance performance, the iPM motor includes a liquid cooled housing and oil-lubricated bearings to provide for cool operation and a longer lifetime.
"With the introduction of the new ZS, we have set a new standard, as they can be used up to a working pressure of 1.5 bar," says Mark Ranger. He continued: "In the past, only custom designed machines could reach this level, but Atlas Copco is now offering it to customers as standard thanks to our brand new element, which is built around an efficient internal compression principle."
With the ZS 4 VSD+ customers don't need to worry about any contamination risk to their end product, as every blower is ISO 8573-1 Class 0 TÜV certified and guarantees a 100 per cent oil-free air supply for critical applications.