Ruhrpumpen Delivers Compact API 674 Reciprocating Plunger Pumps to Repsol for La Pampilla Refinery, Peru
Repsol has recently commissioned two compact API 674 triplex reciprocating plunger pumps at its La Pampilla Refinery in Peru which have been engineered by Ruhrpumpen, a leading global centrifugal and reciprocating pump technology company supplying engineered solutions to the oil and gas, petrochemical, chemical, process, industrial and mining markets.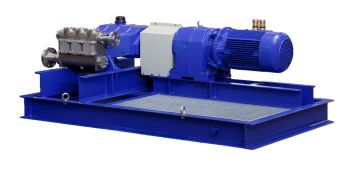 Ruhrpumpen RDP 70-55 (Image: Ruhrpumpen)
La Pampilla Refinery, operated by Repsol, supplies half of the total demand for petroleum distillate products in Peru. Intecsa Industrial, the EPC working with Repsol, selected Ruhrpumpen for its reputation and ability to deliver against the requirements and timescales to replace the aging and unreliable equipment which was pumping light cycle oil, one of the products produced during the fluid catalytic cracking reaction.
Space was at a premium in the refinery and delivery was required on a tight deadline. To meet these demands, Ruhrpumpen designed a compact bespoke arrangement based on its proven API 674 3rd edition RDP 70 triplex plunger pump using an in-line gearbox and B5-flange mounted motor which only required a single coupling for ease of alignment. The pump seal system is configured to ensure minimal leakage, an important consideration for the refinery. Ruhrpumpen also engineered a front pull-out design giving maintenance teams quick and easy access to the seals without removing the whole head unit.
Commenting on the project, Simon Watteau, Managing Director of the Ruhrpumpen Reciprocating Plunger Pumps business said: "We are delighted to see our pumps commissioned in La Pampilla Refinery. Exploiting our innovative engineering teams and world-class manufacturing facilities to produce these cost-effective high volumetric efficiency plunger pumps to the tight deadline demanded by this project is where our organisation excels and we look forward to working on future projects in other locations around the world with Repsol."