Rovatti Pumps: Quick, Easy And Cost-Effective Maintenance
To improve the efficiency of all processes concerning pump operational functionality and to preserve pump best performances, the development of the Rovatti Europa series has been focused on maintenance procedures integrating two efficient and inexpensive systems unique on the pump market:"TWINNER System" and "Rapid reset KIT".
A Simplified Solution
TWINNER SYSTEM comprises: a stainless-steel flange in two halves that, through a simple extraction, greatly facilitates the replacement procedure of stuffing-box packing; easy to adjust and long wear life stuffing-box packing on stainless steel chromium coated bush with stainless steel screws allow easy disassembling even after several operation hours. Through this system it is possible to easily operate on gland packing box without removing
the shaft support.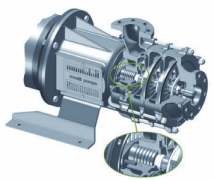 The Right Spare At The Right Time
The "RAPID RESET KIT" is available for all pumps in the "Europa" series. It is supplied in a handy storage carry case and includes all interchangeable wearing parts of the pump body. This allows a fast and easy "on-site" restoration of original pump performances. With over 50 years of experience, 4500 products and a world-wide presence, Rovatti guarantees reliable and innovative solutions. Rovatti pumps can always offer high standard of performance, reliability and much more added value.