PumpSmart® Introduces PF 700 with Vector Control
ITT PumpSmart Control Solutions has introduced PF 700, an easy to use variable speed drive that provides high-performance speed and torque regulation yet is only half the size of similar products.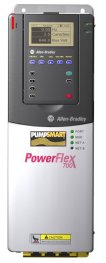 To meet the tight torque and speed regulation requirements of some of industrial automation's most challenging motor control applications, ITT PumpSmart Control Solutions has introduced the new PumpSmart PF 700 with Vector Control. Vector Control, featuring Allen-Bradley Force Technology, means that the PumpSmart PF 700 is able to offer the sort of low speed power and performance only previously available from DC drives. This enables the drive to regulate motor speed to an accuracy of 0.001 percent over a wide operating speed range while also offering industry leading torque regulation. With the ability to hold full torque at zero speed and still maintain precise speed control across the speed range, the drive can be used in processes requiring very tight speed control.
Available in ratings from 0.37kW to 110kW and voltage ratings from 230 to 600V, the PumpSmart PF700 is around half the size of similar products of equivalent power ratings. It also saves panel space with Zero Stacking, a feature that allows drives to be mounted side-by-side. An integral electromagnetic compatibility (EMC) filter reduces the drive's footprint when complying with stringent European standards (CE). Integral common mode cores on the output reduces noise. A built-in brake eliminates the need for external choppers and dynamic braking modules.
For added flexibility, there is an additional analogue output and two high-speed analogue inputs. Users can take advantage of one output for a meter to monitor speed and the other could be used to provide process information to another drive. The two high-speed analogue inputs are ideal for users seeking very fast torque and speed response. In particular, these high-speed inputs are required for use with motion controllers where a quick response is critical.
The PF 700 with Vector Control features a control cassette that houses the main control board and I/O. This cassette, removable from the power structure, is the same for all drive ratings and greatly simplifies training, installation and maintenance for the entire product line.
The PF 700 AC drive with Vector Control is designed to meet worldwide power ratings and packaging requirements for out-of-the-box performance. It offers significant commonality across multiple platforms, including networks, operator interface, programming and hardware. This commonality is designed to help users feel comfortable with the programming and start-up available features.
PumpSmart Control Solutions is a division of ITT Industries. ITT Industries, Inc. supplies advanced technology products and services in key markets including: electronic interconnects and switches; defense communication, opto-electronics, information technology and services; fluid and water management and other specialty products. Headquartered in White Plains, NY, the company generated $5.6 billion in 2003 sales. In addition to the New York Stock Exchange, ITT Industries stock is traded on the Midwest, Pacific, London, Paris and Frankfurt exchanges.