Priming Without Problems
Dosing pumps with low flow rates per stroke often have difficulties in priming. With an increasing suction lift and viscosity of the medium these difficulties become more severe. Air pockets during startup or after exchanging the tank as well as effervescent media may also result in priming problems.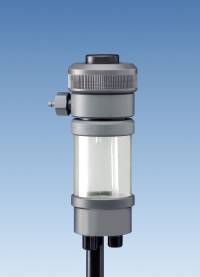 Priming is made much easier by using Lutz - Jesco priming aids. Here the metering head is supplied directly with liquid. Possibly occurring gas is collected in the priming aid. The dosing process is not interrupted, cavitation is avoided.
The priming aid consists of a collector which is mounted between the suction line and the suction valve of the pump. Only in the case of air entering the suction line or effervescent media would the collector be emptied gradually by the pump. Therefore the liquid level should be checked regularly if effervescent media is dosed.
An integrated pumping device allows to fill the priming aid without opening the collector. Thus spilling of possibly dangerous chemicals is also avoided.
Lutz - Jesco GmbH exhibits at the ACHEMA 2003 – "International Exhibition-Congress on Chemical Engineering, Environmental Protection, and Biotechnology " – which takes place from May 19th to 24th in Frankfurt/Main. This year Lutz - Jesco will be located in hall 8.0, booth C31-C32.
For interviews and further information please contact: Mr. Oliver Borgas marketing@jesco.de