preeflow eco-PEN Dosing Units for Precise Dosing Applications
preeflow eco-PEN Dispensing or dosing units from ViscoTec are based on endless piston principle and are available for precision applications.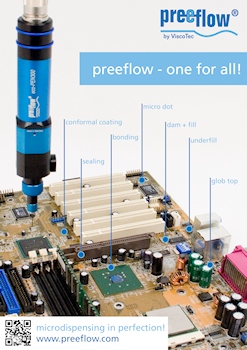 ViscoTec
They consist of the rotor/stator assembly and a motor drive unit, in a pen-like configuration. A separate controller allows programing of the motor - speed and number of rotations to effect dots or deposits of specific volumes, or continuous beads. At the conclusion of a dispense, the motor can be reversed briefly to prevent stringing or dripping. A dispensing needle is fitted to the end of the pen using a standard luer fitting. Crucially, once a material has been characterised, a desired volume can be selected on the controller, which is dispensed regardless of material viscosity changes and independent of ambient temperature. The technology handles viscosities from water up to very high viscosity pastes, including abrasive, filled or shear-sensitive media. Flow rates range from ~ 0.1 to 60 ml/minute. The pen can be hand-held or fitted to automation.
The benefits of the continuous, volumetric positive displacement pump include precise, process stable dosing or dispensing, which is benign to the media. Control is linearly proportional, so is simple to program - and very repeatable and consistent. With automated handling, the highest precision of at least ± 1% and reproducibility over 99% of the medium is achieved. Dispensing a bead is accomplished by setting one parameter - the volume flow; matched to the speed of a robot or other automation, it is possible to dose coherent beads down to a width of 250 µm and at traverse speeds of up to 800 mm/s.
The same technology has been applied to metering and mixing two component materials; two pumps supply the components to a static mixing nozzle in the correct volumetric ratio.
It has found applications in optics & photonics, biochemistry, photovoltaics, electronics and semiconductor manufacturing, automotive and medical technology.